Exhausted by a government mired in corruption scandals, Guatemalans sent a message to the country's political elite on Sunday by electing former national TV comedian, Jimmy Morales, as president.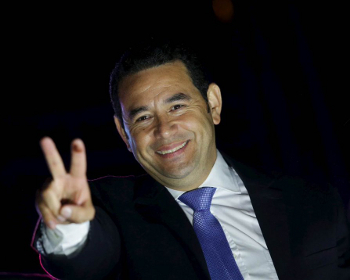 Morales, who has previously never held public office, defeated former First Lady Sandra Torres in a runoff, 67 percent to 33 percent.
The former comedian campaigned as an "anti-establishment" outsider, tapping into the nation's antipathy towards a political system that recently saw the resignation and arrest of former President Otto Pérez Molina.
Morales's opponent, who headed various social programs while her ex-husband Alavro Colom served as president (2008-2012), was an easy target for Morales to link to a detested political oligarchy.
The 46-year-old evangelical Protestant, who starred in a sketch comedy TV show for 14 years with his brother, provided little in terms of policy during the campaign. However, he has since made it clear that he favors low taxes and limited government. Morales also opposes same-sex marriage, abortion, and drug legalization.
The president-elect's lack of experience in public service helped propel him to the presidency, yet it remains to be seen if that will translate into positive results. His party, the National Convergence Front, only holds seven percent of the seats in Parliament, and Morales may now find it difficult to forge consensus among the political parties that were on the receiving end of his pointed campaign rhetoric.
However, Morales was optimistic in his victory speech: "Guatemala is changing in a peaceful manner, without bullets, and only with (citizen) participation.…We have to show the world we are a country of honest people. There will no be tolerance for corruption."