EspañolThe Guatemalan Prosecutor's Office and the International Commission against Impunity (CICIG) arrested former Vice President Roxana Baldetti on Friday, August 21.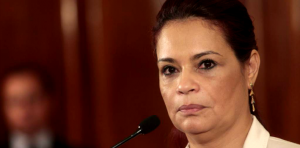 Police officers apprehended the former member of the Otto Pérez Molina administration in Guatemala City at the Zone 10 Medical Center. According to local media, Baldetti was admitted to the center for treatment on Sunday, August 16.
While prosecutors have yet to disclose specific charges against the former vice president, they say there is enough evidence to presume her involvement in a customs-fraud scheme known as "La Línea" (the Line).
Investigators believe Baldetti's private secretary, Juan Carlos Monzón, was the mastermind behind the scheme, but Monzón currently remains at large. Prosecutors also announced they are seeking to open an investigation against President Pérez Molina, who denies involvement in the kickback scheme.
[adrotate group="7″]
Baldetti resigned as vice president on May 8, after investigations into Guatemalan criminal networks led to the arrest of several government officials. Her resignation was followed by a series of nationwide protests calling for Pérez Molina to also step down.
On Thursday, prosecutors raided Baldetti's family residence near the Salvadoran border, and investigators are currently examining bank accounts and potential assets abroad, according to local media.
While the investigation could take several months, Siglo 21 reports that police have already seized three properties and frozen several bank accounts belonging to Baldetti and her husband Mariano Paz.
Presidential elections in the Central American country are scheduled for September 6, 2015.
Source: Siglo21.