EspañolIn response to a letter from world-renowned journalists, artists, and intellectuals to Mexican President Enrique Peña Nieto, Mexico's Interior Ministry announced on August 18 that Roberto Campa Cifrián, undersecretary for Human Rights, will personally handle the so-called Narvarte case.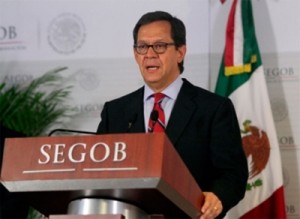 The case involves the grisly murder of photojournalist Rubén Espinosa, activist Nadia Vera Pérez, Olivia Alejandra Negrete Avilés, Yesenia Quiroz Alfaro, and Mile Virginia Martín, which took place in the Narvarte neighborhood of Mexico City.
In a statement to the press, Campa Cifrián condemned violence against journalists in Mexico, and reaffirmed the Peña Nieto administration's commitment to find those responsible in the Narvarte case.
"Each crime must be combated, and each human loss associated with violence should be pursued and punished. We are also aware that the crimes that affect the media and human-rights defenders due to their professional activities have an additional impact on society, because they represent attacks against the liberties of all Mexicans," Campa Cifrián said.
The undersecretary also highlighted Mexico's Law to Protect Human Rights Defenders and Journalists, which is part of the country's 2013-2018 National Development Plan. The law enables civil-society organizations, such as Freedom House, to collaborate with the federal government to strengthen free speech and protections for journalists.
[adrotate group="7″]
Enacted on June 25, 2012, the law currently protects 419 people, including 172 journalists and 247 human-rights defenders.
In an interview with Radio Fórmula, the undersecretary said the case will not be handed over to the federal Attorney General's Office, since he is confident that prosecutors in Mexico City have sufficient technical knowledge to carry out the investigation.
"To the extent that these [investigations] are successful, the doubts will fade away," Campa Cifrián said.
According to Article 19's most recent report, aggressions against Mexican journalists increased by 39 percent in the first quarter of 2015 compared to the same period the previous year.
Sources: El Financiero, Excelsior, Univisión.