EspañolThe girlfriend of a prominent indigenous activist in Ecuador is in hot water after authorities did not take kindly to her presence at the mass protests on Thursday.
On Friday morning, immigration services detained the French-Brazilian journalist and professor, Manuela Picq. They also cancelled her visa for employment in the South American nation, after eight years as a resident, so deportation looms.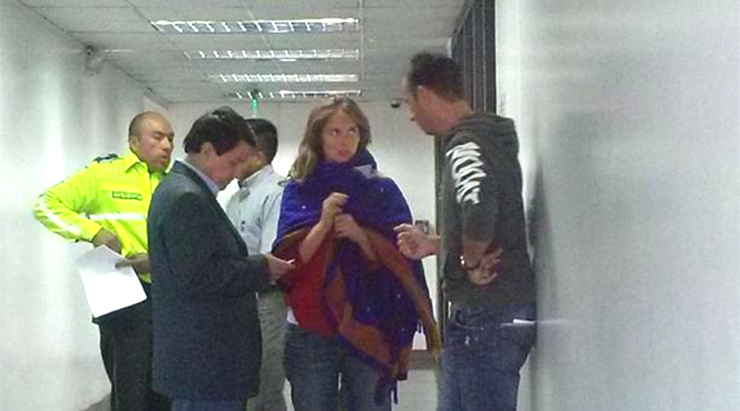 Police first arrested Picq on Thursday night, together with her partner, Carlos Pérez Guartambel, who is president of the Movement of the Indigenous People of Ecuador, ECUARUNARI.
Riot police targeted the couple during their participation in a demonstration with a broad coalition of civil-society groups, including the Confederation of Indigenous Nationalities of Ecuador (CONAIE). All participants came out in opposition to President Rafael Correa's brand of socialism, in particular his drive for indefinite reelection.
Police took Picq into custody and transferred her to Immigration Services on Friday morning. Faculty members from San Francisco de Quito University, where she teaches within the International Relations Department, then accompanied her with immigration officials while police verified her residency status. Her colleagues assure that she is a legal resident in Ecuador.
In addition to her teaching, Manuela Picq is an activist journalist in Ecuador and is known for her work for Al Jazeera and Upside Down World. She covers and follows citizen demonstrations often, and has been assaulted on occasion during her coverage. She has reported being the victim of physical attacks from authorities, both during the recent demonstration and her detainment. In fact, following the arrest, the journalist was transferred to Eugenio Espejo Hospital for treatment.
[adrotate group="8″]
According to reports published by local newspaper El Comercio, Picq and Guartambel were participating peacefully in the demonstration, and were tackled to the ground while they were on the telephone. Picq was carrying a backpack with her computer and camera inside, which has gone missing.
Assemblyman for the Pachakutik Plurinational Unity Movement Lourdes Tibán, a close friend of Picq's, said that the journalist and her partner had been taken to the Interior Ministry and then separated by police. Tibán also described Picq's injuries as a product of police brutality to the head.
At around midnight after the arrest, local free-speech watchdog Fundamedios issued an alert, stating that Picq might be in danger of deportation. However, there does not appear to be any deadline or date set, so she remains in the custody of immigration officials, after the Foreign Affairs Ministry issued her visa cancellation.
Sources: El Comercio, Fundamedios