EspañolTaxi unions across the world have greeted Uber, the innovative and disruptive transportation app, with protests and vandalism wherever it opens shop. Latin America is no exception; the latest battleground is São Paulo, the largest city by population in Brazil and in all the Americas.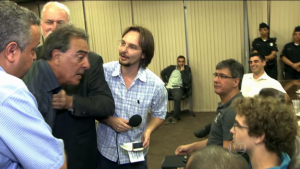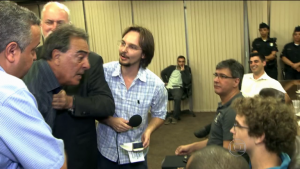 On Monday, August 10, São Paolo hosted a public hearing on a local bill to prohibit Uber, during which councilman Adilson Amadeu of the Brazilian Labor Party (PTB) lost his cool. Amadeu confronted and verbally assaulted a Students for Liberty Brazil member, and if not for intervention from bystanders and police, would likely have brought fists to bear on the young man.
The tense meeting involved Uber representatives, the Public Prosecutors' Office, São Paulo councilmen, and several taxi unions. Speakers held little back in criticizing each other's positions.
At one point during the debate, Amadeu, author of the legislation, became visibly upset when one member of the audience shouted "legality is not morality!" as reported by Globo's G1.
"That little dipshit over there was hired to come and talk nonsense. They hired you, didn't they?" retorted Amadeu.
https://youtu.be/eiOtHJNP7fM?t=4m5s
Darwin Ponge-Schmidt, a local SFL Brazil coordinator, then took the stage. The young man said he was no Uber driver, but a university student. He then went on to criticize taxi unions and São Paulo councilmen for curtailing residents' freedom of mobility.
"You have claimed that someone paid me to be here. I'd also like to know how much money Sinditaxi [union] paid every councilman to secure a unanimous front against Uber during the first vote of the bill [on June 30]," but at that point all hell broke loose in the room.
Amid shouting from union representatives, the councilman pounced on the student, insulting him. The session then ended without consensus, and city police had to escort Ponge-Schmidt out of the building.
On Tuesday, Students for Liberty Brazil issued a statement lamenting the attack.
"Aldison Amadeu's threats and shouts will have no effect on Darwin or on any other Students for Liberty leader. A liberal knows what he's in for when he decides to defend freedom," the international student organization wrote on its website.
"Students for Liberty and all its leaders will remain firm in their defense of a free society and a free transportation system. We will keep spreading our ideas, because we know only ideas can save us from the obscurantism of those who still employ violence to impose their points of view."
Also on Monday, a couple filed a complaint against a group of taxi drivers who circled a Uber ride they were in and forced them to get out of the vehicle. Another Uber driver told G1 he was kidnapped and beaten up by alleged taxi drivers on Monday evening.
Home to 12 million Brazilians, São Paulo has only 34,000 taxis but unions are currently pressuring city authorities for more licenses.

Sources: G1, Students for Liberty Brazil.