EspañolLeaked emails from the Italian security firm Hacking Team reveal that the Ecuadorian government hacked the Facebook and email account of opposition politician Carlos Figueroa, according to an Associated Press report published on Friday, August 7.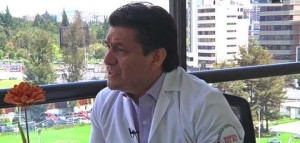 The email conversation, among the trove of documents uploaded by Wikileaks, is the first evidence that Ecuador's intelligence agency SENAIN employed software designed by Hacking Team to spy on the opposition.
When the leak first surfaced in early July, President Rafael Correa denied his administration ever purchased any product or service from the Italian company.
In March 2014, Figueroa, a physician and member of the indigenous opposition party Pachakutik, was convicted of criminal libel for claiming Correa faked a kidnapping during a police revolt in 2010.
The courts sentenced Figueroa to six months in prison, but the doctor skipped his court appearance and remained a fugitive until July 2014, when the police finally captured him.
According to the emails obtained by AP, SENAIN employee Luis Solís sent Hacking Team several requests to send Figueroa malicious links and infected Microsoft Office documents.
Solís sent Hacking Team so many requests, in fact, that customer support engineer Bruno Muschitiello suggested scaling down the operation. "It is not a good choice to send many exploit documents to the same target, it can be very risky, the target may suspect something," Muschitiello wrote on April 11, 2014.
Figueroa told the AP that he recalled receiving several strange emails around that time, and even though he deleted them, his account was still hacked.
"I owned four email accounts, and all of them had problems," Figueroa said. "I also had problems with Facebook. At one point, it seemed like they attacked all my communications on social media. We all just assumed our telephones were permanently tapped."
On August 4, "the Ecuadorian Wikileaks," Ecuador Transparente, released 31 documents proving that the Rafael Correa administration specifically spied on several opposition politicians, as well as journalists and activists.
Source: Associated Press.