EspañolVenezuelan President Nicolás Maduro has never been more popular, if his presence on Twitter is to be believed.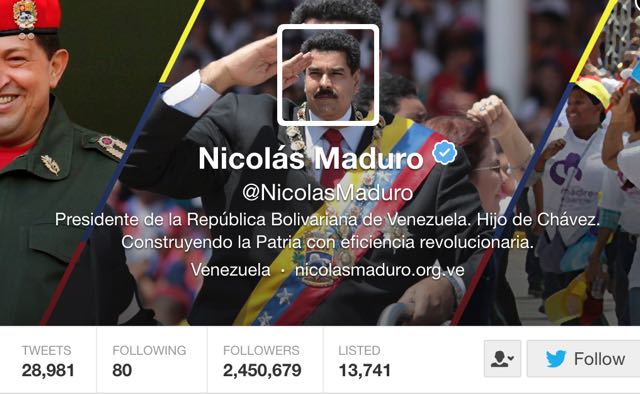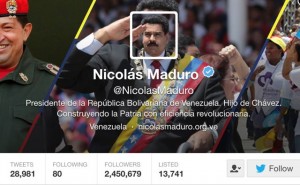 However, research conducted by the Utah State University Data Science Lab has found that Maduro, whose real-life popularity rating is now below 20 percent, may not be playing fair online.
According to the Associated Press, researchers have discovered that hundreds of the accounts that follow and retweet Venezuelan government officials show distinctive features of being automated bots, such as dozens of messages sent during a short time span, repetitive content, and the same tweets posted from different accounts within seconds of each other.
"We can conclude that there is a bot alliance," computer science professor Kyumin Lee told the AP. "It's not that they just happened to repost the exact same content; this is not normal human behavior."
Twitter has become a crucial platform for government opponents as one of the few remaining spaces where free speech is preserved. According to the Pew Research Center, Venezuela is among the most active countries on the social network and shares more political news than any other nation in Latin America.
"Twitter is one of the scarce windows for dissident options," said Carolina Acosta-Alzuru, a University of Georgia media studies student from Venezuela.
"It's another sphere where the government [is] trying to control the discourse. That's what the whole game with hashtags is about — giving you a false sense of a majority."
Despite the opposition polling twice as well as the ruling United Socialist Party of Venezuela (PSUV), government-sponsored messages and hashtags consistently rank among the top trending topics.
The PSUV also offers an app that allows Twitter users to automatically retweet every message posted by President Maduro, who has become the third most-retweeted public figure in the world, behind only Pope Francis and the King of Saudi Arabia, according to public relations firm Burston Marsteller.
Source: Associated Press.