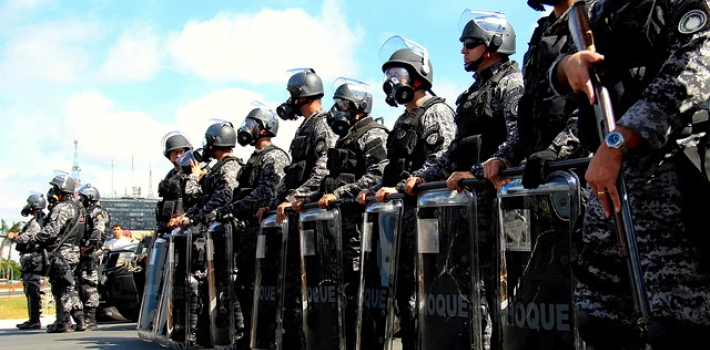 EspañolBrazilians have police brutality on their minds, according to a July 28 poll by Datafolha. It suggests that 62 percent of the nation's urban residents fear aggression by the Military Police (PM).
The poll, conducted at the request of the Brazilian Forum on Public Safety, gathered the accounts of 1,307 people who live in cities with more than 100,000 inhabitants across all Brazil's regions.
"The population feel that either they are the victims of criminals or law enforcement," said Renato Sérgio de Lima, vice president of the forum and professor at the Gétulio Vargas Foundation.
A 2012 poll found that 48 percent of Brazilians feared the PM, which suggests a jump of 30 percent in just three years. However, that study surveyed people in cities with a minimum population of 15,000.
Among those who display particular discomfort towards police brutality are young adults, the poor, blacks, and residents of Northeastern Brazil.
Aside from fear of police aggression, 81 percent of interviewees said they feared assassination, which represents an increase from the 2012 poll that placed the number at 62 percent.
In addition, more than half of the population feared aggression by the Civil Police (53 percent) or had a relative that had been the victim of a homicide (52 percent).
A study by the United Nations and the World Health Orgnization estimates that Brazil's homicide rate was 32.4 per 100,000 residents in 2012, making it one of the highest in the world.
To combat the spike in homicide rates, President Dilma Rousseff announced a plan on Thursday, July 30. She proposed to sponsor technical training for impoverished youth to prevent them from joining the ranks of organized crime.
"I propose a federal cooperation that gathers the common efforts of all of those who compose the powers of the state, especially the judicial branch, to interrupt the number of homicides that lead a person to be assassinated every 10 minutes," President Rouseff said, alluding to the possibility that the homicide rate can be contained from "now until 2018."
Over the last 30 years, Brazil's homicide rates have decreased in states such as Rio de Janeiro (29 percent) and São Paulo (11 percent), but they have increased markedly in the Northeast, including Paraíba (150 percent) and Bahía (50 percent) — as estimated in the most recent 2013 UN Global Study on Homicide.
Sources: Folha de São Paulo, CRI Online.