EspañolColombia will follow México's lead as it prepares to regulate the ride-sharing app Uber, according to Colombian Transportation Minister Natalia Abello. The announcement came on Wednesday, August 5, in an interview with local newspaper La República.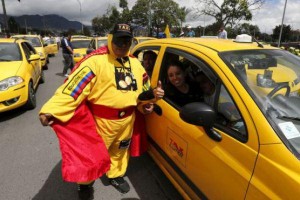 Regulations may include fees, standards set on the type of vehicles used, and a requirement that Uber vehicles be provided by the company. Abello said the ministry plans to have a proposal ready by December. "The ministry is clear on users' need for single-passenger service. These days, users want to ride in comfort and have access to various forms of payment not available within the traditional taxi services," Abello said.
In an interview with El Tiempo on August 2, Uber's Colombia director, Michael Shoemaker, said the company is willing to negotiate with the Ministry of Transportation to ensure smooth business operations, as it has in places like Mexico.
Uber proposes instituting registration and identification decals for their drivers, as well as transferring 1.5 percent of each transaction into the state's hand, in order to create an assistance fund for taxi drivers.
"As we did with the government in Mexico, we propose the creation of a transportation fund. It could help to finance the metro, improve taxi services, expand the TransMilenio system. These funds can serve many purposes," Shoemaker said.
Uber has been operating in Colombia since September 2013, battling since then with taxi-driver unions and the Transportation Ministry. Colombian President Juan Manuel Santos promised taxi drivers a ban on Uber during the last election campaign.
The ministry now plans to regulate the ride-sharing app by differentiating it from taxis, labeling it a "luxury" service for its technological capabilities.
Taxi drivers, however, are not pleased. On Wednesday, July 29, they organized a strike in four Colombian cities, adding to the demonstrations held in recent months. They say competition from Uber costs their industry COL$5 billion per day.
Source: La Republica.