EspañolColombia's Taxi drivers have today raised the stakes in their battle with ride-sharing app Uber.
On Wednesday, July 29, cab owners and drivers took to the streets of Bogotá, Cartagena, Cali, and Pereira to go on strike and protest the unregulated competition they face.
Representatives from the National Board of Taxi Owners insisted that the app is illegal and claimed that his drivers and cab owners lose some COL$5 billion (roughly US$1.8 million) on a daily basis.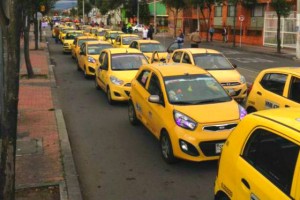 Major traffic jams ensued in the Colombian capital, Bogotá, as taxi drivers inched through streets.
Hugo Ospina, a union leader, said police smashed several windshields without valid reason. He claimed the cabs weren't blocking the road, just driving at a slow pace.
Ospina said that the demonstration wasn't against "the white ones" (Uber vehicles), rather "against the persisting unlawful behavior and piracy within the sector," that is damaging to taxi drivers.
In response to the strikes, Uber launched a campaign, called #ColombiaNoPara (#ColombiaDoesn'tStop) giving all its users two free rides "to support the mobility" of all Colombians.
Si #ColombiaNoPara, Uber no para. Ingresa el código ColombiaNoPara y Recibirás 2 viajes GRATIS hasta $15.000 Pesos. http://t.co/uBUrRhFeBf

— Uber Colombia (@Uber_Col) July 29, 2015

"If #ColombiaDoesn'tStop, Uber does not either. Use the code ColombiaDoesntStop and you will receive two FREE rides of up to US$5.00."
In addition, drivers of the Integrated Public Transportation System (SITP) joined the protests to demand better job prospects and safety.
The protesters decry long working days that exceed 16 hours, lack of job security, alleged disregard for medical leaves, the arbitrary removal of bonuses, and breathalyzer tests while on the road.
Sources: El Espectador, Tropicana.