EspañolThe Haitian government has recalled its ambassador to the Dominican Republic for not "appropriately" defending his country in public remarks about the current immigration crisis.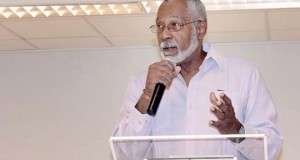 The government made the decision to remove Daniel Supplice from Santo Domingo on Wednesday, July 22, naming current minister-counselor Magalie Magloire as his temporary replacement.
Former Ambassador Edwin Paraison confirmed Supplice's dismissal via Twitter, adding Supplice had been called in or a "consultation" and then informed he would be returning to Haiti.
In previous interviews, Supplice regularly called the Documentation Program for Haitian Immigrants (PIDIH) a "failure." The program, launched by the Haitian government in mid-2014, aimed to regularize the immigration status of its citizens around the world.
Supplice recently told local newspaper Le Nouvelliste that Haitian authorities are "responsible" for the illegal status of a large number of Haitians living in the Dominican Republic. He said many of these migrants were unable to enroll in the the National Plan for the Regularization of Foreigners (PNRE), which expired on June 17, due to their lack of documentation.
Paraison noted that Supplice's dismissal does not mean diplomatic relations between the two nations have been broken.
The Dominican government has yet to comment on the ambassador's removal, since Foreign Minister Andrés Navarro is currently attending the Latin American and Caribbean Group (GRULAC) conference held at the UN headquarters in New York.
Sources: Listin Diario, EFE.