"When faced with economic crisis, we must not remain indifferent," Miranda Governor Henrique Capriles Radonski said during a press conference on Tuesday. Amid soaring inflation, Venezuela must refinance its foreign debt to improve government revenue, he says. "We cannot sit back and watch our country destroyed."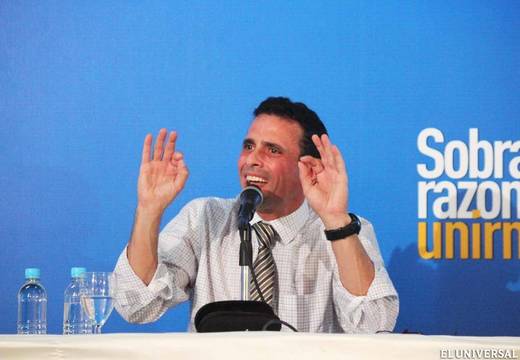 The governor unveiled a six-point economic recovery plan that aims to generate US$20 billion in revenue and halt the economy's downward spiral by the end of 2015. At it's core, says Capriles, the plan is meant to bolster the country's productive sector.
Among other elements, the proposal aims to increase the minimum wage by 50 percent and establish a $250 million fund to buy school supplies to benefit as many as 9 million students before classes begin in September.
Capriles, a former presidential candidate in 2012 and 2013, also suggests Venezuela immediately collect on foreign countries' oil debt, renegotiate unfair oil deals, revert the expropriation of more than 300 businesses, and renegotiate the government's debt with creditors.
According to Reuters's data, Venezuela faces $6.4 billion in debt service for the remainder of 2015, which amounts to 40 percent of its international reserves — the worst level in 12 years.
Additionally, the Andean country must pay $10 billion in debt service obligations between 2016 and 2017.
"This is not a default, like the government intends when emulating Greece's model, which shortly after a political victory ended up settling with creditors," Capriles said.
"The idea is to review the negative conditions in which the debt was acquired and generate trust through an economic plan that can be supported by [creditors]. This does not mean seeking help from the World Bank or the International Monetary Fund."
Venezuelan President Nicolás Maduro has previously dismissed rumors of default as a "right-wing smear campaign" and insists the government will make all its foreign debt payments.
Sources: El Nacional, El País.