EspañolA US Senate panel made it clear on Thursday that their vision to combat corruption in Honduras includes the creation of an anti-impunity commission, similar to the UN-backed International Commission against Impunity in Guatemala (CICIG), established in 2007.
On July 9, the US Senate Appropriations Committee approved US$675 million in aid to improve conditions in the poorest and most violent regions of El Salvador, Honduras, and Guatemala, as a part of the Alliance for Prosperity Plan.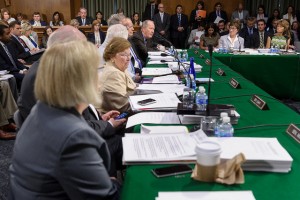 The Senate confirmed that at least $2 million "should be available, after consulting with the committee, as a contribution by the United States to an international commission against impunity in Honduras, if such a commission is established."
The Senate's proposal doubles the $300 million approved by the US House of Representatives, although both figures are significantly lower than the $1 billion requested by President Barack Obama.
"Despite knowing that the discussions remain in a preliminary phase in the Senate Appropriations Committee, we welcome these developments and hope that in the end the representatives of the US public authorize the cooperation with the Northern Triangle of Central America," the Honduran office of the president said in a press release.
Earlier this year, Vice President Joe Biden warned that economic aid to Guatemala under the Alliance for Prosperity Plan would be withheld if the Otto Pérez Molina administration did not renew the CICIG's mandate. The Guatemalan government eventually called for the extension in April.
Pérez Molina's position on the international commission against impunity, as well as that of Honduran President Juan Orlando Hernández, contrasts with fellow Northern Triangle leader Salvador Sánchez Cerén, president of El Salvador.
Sánchez Cerén has up to now rejected the recommendations of the US State Department to establish a similar commission in his country.
Source: La Prensa Gráfica.