EspañolThe Revolutionary Armed Forces of Colombia (FARC) announced on Wednesday the start of a one-month unilateral ceasefire, Iván Márquez told press in Havana, Cuba, where the guerrilla leader heads a delegation negotiating peace with the Colombian government.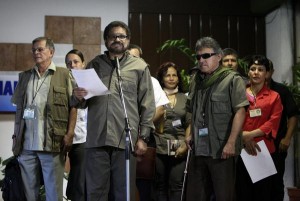 The announcement follows a request from Cuba, Norway, Venezuela, and Chile, four countries which are acting as guarantors during the peace process to promote the "urgent deescalation of the armed conflict," and to strengthen the "implementation of confidence-building measures."
Márquez said he hopes the move will generate a favorable atmosphere for a bilateral, permanent ceasefire with the Colombian military.
In December 2014, the FARC issued an indefinite ceasefire, which lasted until May 22, 2015, after the Colombian government resumed air strikes and bombed rebel camps in response to guerrilla attacks in Cauca. Since May, Colombia has experienced an increase in FARC attacks.
In his statement, Márquez says the guerrilla representatives went to Cuba to "reach a peace agreement, to close a chapter in a war that has gone on for more than half a century. Nothing would please us more than to definitively end the conflict, the violence, the creation of new victims, and the suffering of the Colombian people as a result of the conflict."
Colombian President Juan Manuel Santos said he appreciated the FARC's decision and called for more "concrete commitments" to move forward with the peace deal.
Valoramos gesto de cese unilateral de fuego de las FARC pero se necesita más, sobretodo compromisos concretos para acelerar negociaciones.

— Juan Manuel Santos (@JuanManSantos) July 8, 2015

"We appreciate the FARC's unilateral ceasefire, but we need more, especially concrete commitments to accelerate the peace process."
Sources: BBC, El Espectador, El Heraldo