EspañolOn Saturday, July 4, two men on motorcycles shot and killed Joel Aquiles Torres Alvarenga, a Honduran businessman and TV station owner, while he drove from San Pedro Sula to Tegucigalpa, the country's capital.
As Torres traveled on the CA-5 North highway, in the municipality of Taulabé, Comayagua, near the Los Almendros neighborhood, two men intercepted his vehicle and fired 29 shots. The police found one of the presumed gunmen's motorcycles not far from Torres's Toyota Rav4, which crashed into a tree after Torres lost control of the car.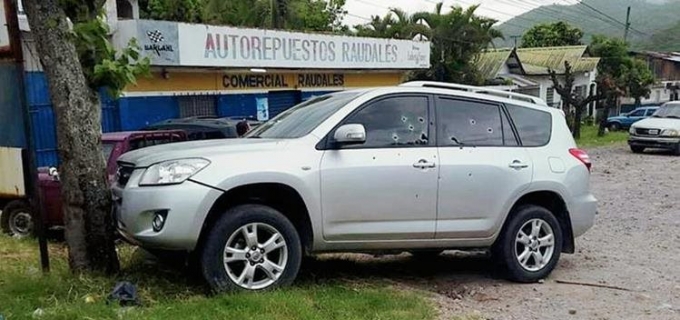 Aquiles Torres was 48 years old. He owned Channel 67 (Taulavisión) from Taulabé, and had stock in a private broadcasting company. The businessman lived in San Pedro Sula, Honduras's second most important city, but traveled frequently to Talaubé for business. The Honduran National Police have launched an investigation, but have not arrested any suspects so far.
With the death of Aquiles Torres, the number of journalists and media workers killed in the last 12 years in Honduras reached 56, according to the Human Rights Commissioner of Honduras. In December 2014, the owner of Channel 28 of Comayagua was murdered in a football field. On May 15, 2015, a radio show host in Sulaco, 350 kilometers north of the capital, was also murdered.
According to the National Autonomous University of Honduras's Observatory of Violence, 15 violent deaths occur each day in the Central American nation. In 2014, Honduras registered the highest homicide rate in the world, 68 per 100,000 inhabitants, even though it fell from 2013's rate of 79 homicides per 100,000 citizens.
According to the Honduran Public Ministry, 96 percent of all homicides in the country go unsolved, including 90 percent of all cases involving the murder of a journalist.
Sources: El Universo, La Prensa, El Tiempo, TVN-2, 102 Nueve.