The conservative opposition party Republican Proposal (PRO) scored a clear victory on Sunday, July 6, as its candidate, Horacio Rodríguez Larreta, received 45.5 percent of the vote for mayor of Buenos Aires.
Former Economy Minister Martín Lousteau, from the progressive coalition Organized Citizen Energy (ECO), came in second with 25.6 percent, and Mariano Recalde, the candidate from the national governing coalition Front for Victory (FPV), placed third with 21.7 percent.
Since no candidate received more than 50 percent, there will be a runoff in two weeks between Larreta and Lousteau to determine who will succeed Mauricio Macri (PRO) as the mayor of Buenos Aires.
Sunday's results closely mirrored those of the open primary held on April 26, when PRO received 47.3 percent of the vote, ECO 22.2 percent, and FPV 18.7 percent.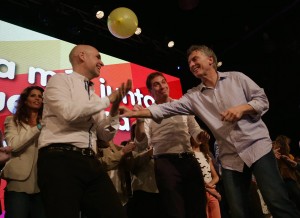 In a historic night for Argentina, this election marks the first time the country implements an electronic voting system to elect a public official.
For PRO, the experiment was a success: "Two things are to be noted: the reaction of the citizens, how they accepted the cultural change with happiness, and the training given to the officials of the polling stations," said Guillermo Montenegro, Ministry of Security of Buenos Aires.
Opposition party leaders say the new system allows for a speedy and accurate counting of the vote. The administration, however, criticized the modernized process. Aníbal Fernández, the president's Chief of Staff, says "four or five hours less of counting is not an acceptable trade-off for the loss of transparency to the citizen. He wants to see that what he voted for is registered."
On Saturday, Argentinean Judge María Luisa Escrich ordered a raid on the home of Joaquín Sorianello, a computer programmer who has warned about flaws in the Buenos Aires electronic voting system and claimed ballots could be hacked to vote more than once.
Sorianello criticized Magic Software Argentina (MSA), the company in charge of implementing the system, because a poor set-up had revealed the security certificates of the voting terminals online. Beatriz Busaniche, a member of the Via Libre Foundation, claimed that "the required conditions for the polls on Sunday to take place are not met."
The next round of voting on July 19 is set to gauge the strength of each party heading into the general election on October 25.
Sources: Infobae, Telam, La Nación, Continental.