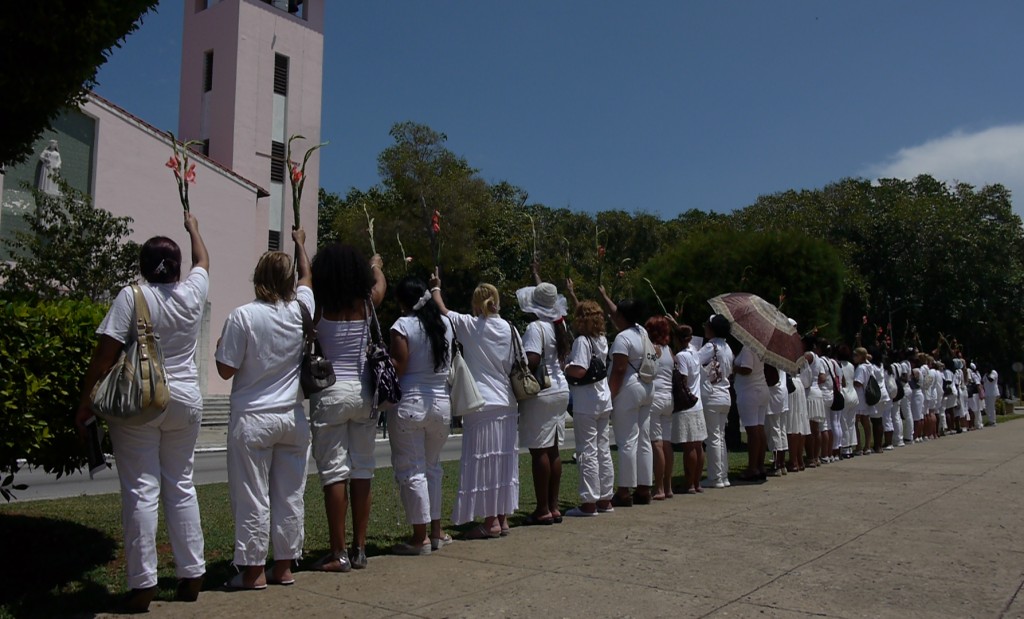 EspañolIn a story fit for the totalitarian island, a Cuban priest has banned a group of dissidents from attending his masses — apparently because other attendees do not want to be associated with their activities. A hunger strike, started on Thursday, proved insufficient to sway the priest, as he had regime agents arrest them en route this Sunday.
Police arrested Emilio García Moreira and Alexander Veliz García, along with 10 members of the Ladies in White and 12 other activists on the their way to speak with Cienfuegos bishop Domingo Oropesa Lorente.
The dissidents planned to ask Oropesa to overrule a priest identified as "Father Tarciso," who asked eight members of the Ladies in White to leave a Sunday mass they were attending at Aguada de Pasajeros church on June 21.
According to a neighbor, the priest asked the Ladies in White to leave the service based on requests from other church members.
Moreira and Veliz ended their hunger strike on Sunday, June 28, at the request of other activists. "We need you healthy and strong to continue fighting," said Iván Carrillo, former political prisoner from the 2003 Black Spring, when the Cuban government cracked down on dissidents.
The activists, in addition to the hunger strike, wrote a letter to Tarciso and Oropesa, demanding they let the dissident group attend the church. They also requested an apology from the priest, or that he be transferred to another parish.
"Berta [Soler], Angel [Moya], and others suggested that we speak directly with the bishop," said opposition leader Juan Alberto de la Nuez, Coordinator of the United Anti-Totalitarian Front, who was among those who aimed to speak with Oropesa on Sunday.
Before arriving at the church, they were arrested by "a strong police deployment and a quick response brigade," said Carrillo, who also asked the two activists to put an end to their hunger strike. "It should only be a last resort," he said.
In a recent visit to Miami, Bishop Marcel Arturo González explained that the doors of the Cuban Catholic Church were open for everyone, including dissidents.
Ángel Moya, who authorities detained in another raid in Miramar along many other activists, said that the state official who interrogated him told him to write a "list of political prisoners of interest" to be considered for release. "You must free all political prisoners," Moya says he told the official. "We're interested in all of them."
Moya explained that the Cuban regime "is stressed over Pope Francis's upcoming visit" and said he doubts the government can continue its repression for much longer.
Source: El Nuevo Herald.