EspañolAfter several meetings with the United Nations, Uruguay has stood up to the international body once again over the country's legalization of marijuana consumption.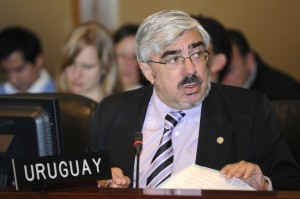 On Thursday, June 26, Juan Andrés Roballo, the president of Uruguay's National Drug Board (JND) announced he will present a report before the UN High Commissioner for Human Rights defending the country's regulation of the marijuana market. He says he will urge the international body to discuss the topic "without taboos."
"Uruguay has embarked on a different path. Not only have we made proposals, we have also taken effective, concrete measures in a different sense," said Roballo.
He added that the whole world is looking closely at Uruguay and highlighted the "special commitment" the country has domestically to run a successful legalization process.
For its part, the United Nations claims the law approved by Uruguay "is incompatible with what is stipulated in the 1961 Convention," an international treaty limiting the production, manufacture, export, import, and distribution of different types of narcotics.
JND Secretary Milton Romani says Uruguay's legalization of marijuana has "kicked the hornet's nest."
According to Romani, Uruguay "will not pull back," arguing that the repressive anti-drug policies adopted prior to the law are "more dangerous than the drug itself." He explained they are not "talking about revising the conventions, but rather about upholding the ultimate goals of these treaties, which explicitly say they seek to improve humankind's health and well-being."
The United Nations Office on Drugs and Crime (UNODC) criticized Uruguay in 2014 and suggested their new marijuana policy would "not only affect drug control in Uruguay, but also negatively impact the fight against drugs in other countries, neighbors or not, especially the control of cannabis."
El consumo de drogas no existe ahora x un decreto. Siempre existió. Hay q asumirlo con reglamentos y como salud. Unidad de Seguim H Clin

— milton romani gerner-nieto de inmigrante (@miltonromaniger) June 25, 2015

"Drug use did not start now because of a decree. It has always existed. It needs to be addressed as a health [issue] and with regulations."
The Uruguayan government's position is that drug use is a public-health issue that has wrongly been criminalized in the past. On Thursday, the Tabaré Vázquez administration released a statement arguing that "the criminalization of use and possession of drugs infringes upon the right to freedom and autonomy."
Sources: El País.