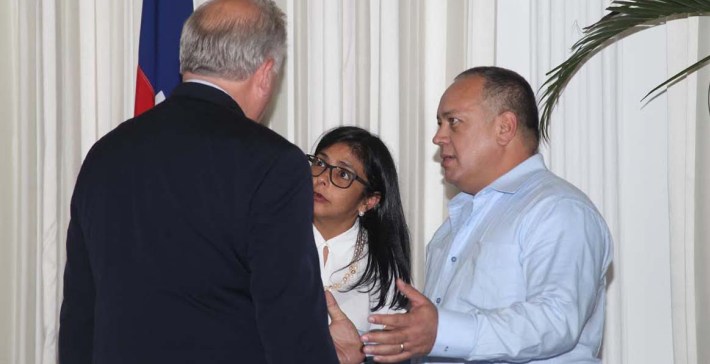 EspañolA US government envoy met on Saturday with two high-ranking Venezuelan officials in Haití in an attempt to relax tense relations between the two nations, Venezuelan state media reported.
"The meeting was held amid an ongoing rapprochement between the Venezuelan and US governments to normalize diplomatic relations, while respecting international law, the sovereignty and self-determination of both nations," stated the government-run Venezuelan News Agency.
In a gathering mediated by Haitian President Michel Martelly, Venezuelan Foreign Minister Delcy Rodríguez and National Assembly President Diosdado Cabello met with Thomas Shannon, counselor to US Secretary of State John Kerry

https://twitter.com/DrodriguezVen/status/609943962263113728
"We held a working meeting in Haiti with Counselor Tom Shannon and a US delegation to normalize our relationship."
In recent months, Shannon has led a series of low-profile meetings in Caracas with President Nicolás Maduro. In early April, the US official visited Venezuela to quell tensions after President Barack Obama declared Venezuela a treat to US national security.
"The talks touched on all elements of our bilateral relationship. They were positive and productive," State Department spokeswoman Julia Straker said.
The meetings aim to smooth the diplomatic relationship between both countries, who have not exchanged ambassadors since 2010.
The talks, however, sparked worried reactions from human-rights NGOs in Venezuela, such as the Venezuela Awareness Foundation which expressed "deep concern" over the meeting.
"It is extremely serious that an envoy sent by the Obama administration met in private with Maduro's envoy, Diosdado Cabello, who faces charges in a New York court for allegedly leading a drug cartel in Venezuela," the organization notes.
Source: El Nacional.