EspañolBolivian President Evo Morales suggested on Tuesday — for the second time so far in June — that he might alter the Constitution in order to run for a fourth term in office "if society demands it."
In comments made to the Deutsche Welle news agency, Morales explained: "If the people says that is necessary to change the Constitution, I will obey," but denied wanting to change the rules prohibiting more than one consecutive reelection unless "the people demand it."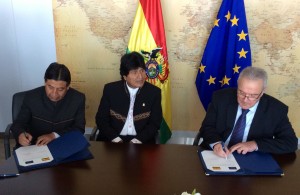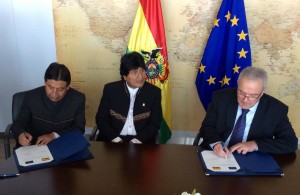 The president's Movement Towards Socialism (MAS) is already developing a referendum that, if approved, would authorize the Legislative Assembly to reform the Andean nations's electoral rules.
On Sunday, Morales suggested that he would consider changing the constitution to allow him to run for office if he felt the people were demanding it.
However, in remarks made before travelling to Europe to attend a meeting between the EU and the Community of Latin American and Caribbean States (CELAC), the former coca-leaf grower maintained that his current plan was to retire to a small farm in Cochabamba Department.
Morales's statements provoked guarded praise from within MAS, and criticism by opposition parties.
Opposition Senator Oscar Ortiz condemned the possibility of the president running for another term, which could see remain him in office until 2024. Ortiz announced the launch of a "vote no" campaign to participate in the run-up to a possible constitutional referendum.
Senate President Jose Alberto Gonzales told press that "while the people still wish it, there will be Evo Morales for a long time to come."
First elected in 2007, and then in 2009, Morales has previously evaded the restriction on more than one consecutive reelection, claiming that a 2009 constitutional reform which re-founded the country as the Plurinational State of Bolivia wiped the record clean. In 2014, Morales obtained his third consecutive victory at the presidential polls.
The one time cocalero has two options at his disposal to create a constitutional referendum. One requires collecting the signatures of 20 percent of the electorate, another a simple majority vote in the Legislative Assembly. Both options are available to Morales, who enjoys a majority in the Assembly and an active grassroots structure within MAS.
Sources: El Deber, La Razón, Página Siete.