EspañolOn Monday, Panama's Supreme Court confirmed that former President Ricardo Martinelli will face a criminal investigation over illegal wiretaps his administration allegedly ordered.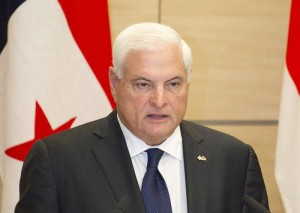 Martinelli has denied the charges and claims he is a victim of "political persecution." Investigators say Martinelli gave the go ahead to illegally spy on more than 150 people, including politicians, journalists, union members, and business people.
Two former directors of the National Security Council, Gustavo Pérez and Alejandro Garuz, are set to provide evidence of the surveillance program in preliminary hearings beginning on August 17.
Pérez has previously told the Public Ministry that Martinelli created a secret surveillance network that operated from the office of the president to spy on both political allies and enemies alike.
The administration allegedly purchased the surveillance equipment from an Israeli company for US$13.4 million with funds from the National Assistance Program (PAN), which provides food to poor schools.
The court has also called on former officials Ronny Rodríguez and William Pittí to testify, but both remain fugitives.
Martinelli is already under investigation over corruption allegations dealing with irregularities in the management of PAN funds. The former president has not returned to Panama since leaving the country in January, and is believed to be living in Miami, Florida.
Panamanian authorities have arrested several of the former president's ministers and close allies, and have launched 11 high-profile investigations into 17 former Martinelli officials.