EspañolMexico's ruling Institutional Revolutionary Party (PRI) is poised to retain its slim majority in Congress after winning roughly 40 percent of the vote in Sunday's legislative and regional elections.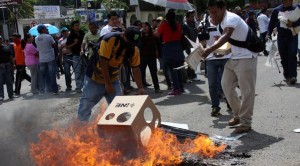 Early forecasts indicate the PRI and its allies obtained between 246 and 263 seats in the 500-strong House of Representatives.
In one of its worst recent showings, the opposition National Action Party (PAN) won just 20.83 percent of the vote and between 105 and 116 seats, while the Party of the Democratic Revolution won between 51 and 60 seats. Morena, led by former presidential candidate Manuel López Obrador, made its debut on Mexico's electoral scene gaining between 34 and 40 seats.
In an election marred by violence, no fewer than seven candidates and nine campaign officials were killed during the lead-up to the polls. On Sunday, in the state of Oaxaca, unidentified gunmen killed former Mayor José Alfredo Jiménez at the municipal palace in Santa María Chimalapa.
Other "isolated incidents" took place throughout the day, according to former Costa Rican President Laura Chinchilla, who led a team of election observers from the Organization of America States.
In Guerrero, the PRD lost its 10-year control of the state to PRI candidate Héctor Astudillo. Guerrero, home to the 43 Ayotzinapa students who were forcibly disappeared last September, was the scene of much of the violence related to Sunday's elections.
A group of student activists and teachers-union members had promised to block the vote, and protesters burned ballot boxes and prevented some polling places from being setup in Tixtla.
Security forces arrested some 160 people for various disturbances, among them 10 members of the State Coordinator of Education Workers of Guerrero (CETEG).
In Michoacán, the PRD recovered the governor's seat from the PRI, while in Nuevo León, independent candidate Jaime "El Bronco" Rodríguez secured a historic landslide victory.