Presidential aspirants in Colombia can forget about returning for a second term in office. The nation's lawmakers on Wednesday voted in favor of a bill that prohibits presidential reelection.
With 90-to-10 support in favor of the bill, the Colombian House of Representatives ultimately decided to prevent presidents from seeking reelection after eight debates in both legislative houses on the issue.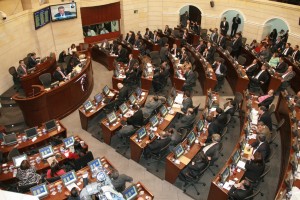 Part of an ongoing constitutional reform, the bill states that "no citizen who has already served as president can be elected," and stipulates that reelection can only be restored in the future through a constituent assembly or popular referendum.
"This is meant to prevent creating all-powerful men in Colombia," Interior Minister Juan Fernando Cristo told local radio.
The bill also prohibits anyone from running for president who less than a year before the election held the office of "vice president, minister, judge, attorney general, ombudsman, general comptroller, army commander, governor, or mayor."
President Juan Manuel Santos backed the legislation, and the bill now heads to his desk to be signed into law. Although Santos was himself reelected in 2014, the president says the practice of reelection has harmed the balance of power between the branches of government.
"President [Santos] said that he sought a second term only to secure the ongoing peace process," Cristo said. "That is what drove the president to run."
In 2004, former President Álvaro Uribe (2002-2010) enacted the change to Colombia's Constitution that allowed him to run for a second term. Legislators from Uribe's Democratic Center Party opposed Santos's bill, alleging "political revenge" by the current president to prevent Uribe from seeking another term.
"We have always defended presidential reelection, because it rewards good rulers and punishes the bad ones," opposition lawmaker Tatiana Cabello said.
Source: El País.