Español"Everyone has had loved ones leave. Letting go of things is part of life." It's a philosophical but succinct reflection by Alan Ohep on his new film El Retrato (The Portrait), one of 17 international films to participate in this year's "Short Film Corner" at the Cannes Film Festival.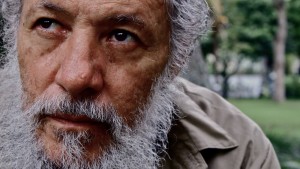 Filmed entirely in Mérida, Venezuela, the short is about an old man (Dimas González) who has isolated himself from society, after suffering a huge personal tragedy. He refrains from speaking to anyone unless unavoidable, until his estranged daughter (Maria Gabriela Torres) turns up at his doorstep with life-changing news.
González's powerful portrayal manages to move the viewer within the first five minutes — without a single word being spoken. Ohep's strong direction and screenplay taps into the sense of loss that all humans feel at some point in their lives. The silences and pauses, weighted with meaning, convey the tension and emotion involved when two people love each other, but can't express it in the right way.
Over the course of just 23 minutes, we're shown two people who have been broken apart attempt to find a way back to each other. Maria Torres as the old man's daughter delivers a nuanced performance, simultaneously showing her desire to open up to her father, but also her reticence due to the pain that both have previously suffered.
The maturity of the work is all the more striking given that the film was part of Ohep's college thesis. A student of Venezuela's National School of Film (ENC, for its acronym in Spanish), he decided to submit his project to the Cannes Short Film corner on a whim. Of 2000 hopeful candidates, only 400 were selected.
Upon receiving his acceptance letter, Ohep scrambled to collect enough money to make it to the French Riviera — festival rules say that directors have to be present to showcase their work. The financial hurdles were huge, not least the difficulty of obtaining foreign currency under Venezuela's fixed exchange-rate system and rampant inflation.
Luckily, Ohep received help from many friends and strangers — one couple even offered him their house in nearby Valbonne to stay in during the festival.
Inspired by Ohep's own experience with love and loss, El Retrato offers a sharp rendering of defeat, loneliness, and heartbreak. The young director says the title was inspired by the portrait left in one's mind after a person leaves their life. "But memory is subjective," he says, "much like a portrait. A memory is only one side of who the person really is."
Ohep and his team hope to submit the film to more festivals around the world this year. While he is extremely proud and honored to reach one of the world's prestigious film festivals, Ohep says that his priority is for people to enjoy the film and appreciate its message.
"I gave everything for this project," Ohep says proudly, "I even sold my car!" With luck, Venezuela's promising up-and-coming directors won't have to resort to such drastic measures to share their work with the world in the future.