EspañolBrazilian police have found the body of a murdered journalist in Timbó, a small town in Bahía State, the national chapter of the Committee for the Protection of Journalists (CPJ) reported on Tuesday. The victim was Djalma Santos da Conceição, 53, who worked for RCA FM community radio in the northeastern region of the country.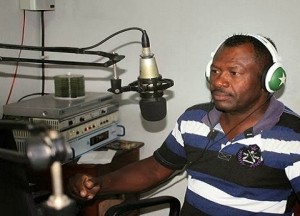 The radio broadcaster's murder joins that of blogger José Evany Metzker, whose decapitated body appeared six days previously on the outskirts of the town of Medina, in the state of Minas Gerais. Both reporters were investigating corruption cases.
"The brutal murder of two Brazilian journalists in less than a week represents a worrying escalation of violence against the press," said CPJ Research Associate Sara Rafsky.
"The CPJ condems the murder of the Brazilian radio journalist Djalma Santos da Conceição and calls on the authorities to investigate and bring those responsible to justice," the organization continued in a press release.
Relatives of Santos, a presenter of popular show "Acorda Cidade" (City Wake Up) told press that he had received multiple threats over his constant denouncement of narco-trafficking activities in the region where he lived.
According to the victim's brother, three masked and armed men kidnapped the Brazilian journalist on Friday, May 22, while he was playing music in a restaurant in the town of Governador Mangabeira, also Bahía State. The criminals fired multiple times into the air and took Santos away in a white vehicle.
According to police reports, the body showed evidence of being tortured. The kidnappers had shot him 15 times, including in the right eye, the leg, the chest, and the stomach.
"The Brazilian Association of Community Radio Broadcasting calls on the Bahía Secretariat of Public Security to clarify and punish those responsible for the crime. Action is needed by the authorities, for the sake of freedom of expression and a threatened free press," the local organization indicated.
Brazil holds place number 11 out of the 13 most dangerous countries in the world for journalists. According to Reporters Without Borders (RSF), Brazil is the third most dangerous in the region after México and Colombia.
Sources: CPJ, Abraco Bahía.