EspañolJailed Venezuelan politicians Raúl Emilio Baduel and Alexander Tirado have joined prominent opposition leaders Leopoldo López and Daniel Ceballos in a hunger strike demanding President Nicolás Maduro release all political prisoners and set a date for this year's legislative elections.
Baduel's sister tweeted the news on Tuesday, May 26, and later uploaded a statement signed by Baduel and Tirado calling for Venezuelans to take to the streets in a "non-violent act of political defiance."
#Alerta Mi hno @RBADUEL y #AlexanderTirado LUEGO DE BRUTAL REQUISA Y EN SOLIDARIDAD CON LOS PRESOS POLÍTICOS,SE DECLARAN EN HUELGA DE HAMBRE

— ANDREINA BADUEL (@AndreinaBaduel) May 26, 2015

"My brother Raúl Baduel and Alexander Tirado after a brutal search and in solidarity with the political prisoners declared a hunger strike."
"We might be behind bars enduring mistreatment, but you are, unfortunately, enduring mistreatment from this disastrous government," reads the letter.
Baduel and Tirado were convicted of conspiracy and public intimidation earlier this year, and have accused Venezuelan authorities of torture and other mistreatment.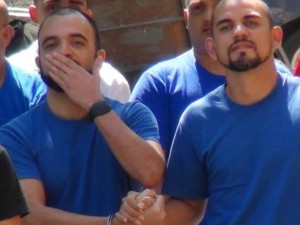 Baduel's father, General Raúl Baduel, was a close ally of the late Hugo Chávez and took part in the military rescue mission after the failed 2002 coup. Since 2010, however, the general has been in jail serving an eight-year sentence on embezzlement charges.
Leopoldo López's wife, Lilian Tintori, claims her husband and the other protesters in prison have yet to receive medical attention since the start of their hunger strike. Meanwhile, Patricia Ceballos, wife of the former mayor of San Cristobal, Daniel Ceballos, says her husband should not be fed intravenously: "If they are going to give him serum, let him drink it, do not inject him."
Venezuelan authorities moved Ceballos from the Ramo Verde military prison to San Juan de los Morros to be housed with the regular population.
On Tuesday, Ceballos reached hour 113 of his hunger strike, while López began his protest on Sunday, after having lunch with his children at Ramo Verde.
ALERTA! En este momento mi esposo @Daniel_Ceballos tiene 113 horas en HUELGA DE HAMBRE, secuestrado y víctima de violaciones a sus #DDHH

— Patricia Gutiérrez (@PatrideCeballos) May 27, 2015

"So far, my husband Daniel Ceballos has been on a hunger strike for 113 hours, kidnapped and victim of human-rights abuses."
In response to the prisoners' calls, Popular Will has scheduled a street demonstration to show support for their demands.
Sources: El Nacional, El Universal.