EspañolOn Wednesday, May 21, Haitian authorities, along with the US Drug Enforcement Administration, arrested the son of former Honduran President Porfirio Lobo Sosa (2010-2014) in an apparent drug-trafficking investigation, Honduran officials confirmed on Thursday.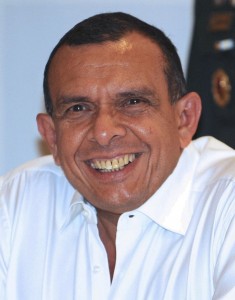 "The detainee is the son of the former President Porfirio Lobo Sosa, who during his term showed the willingness to firmly battle organized crime," notes the Honduran government press release. "No one is above the law, and in that sense we have told to the US government that we are available to collaborate in this case."
Fabio Lobo Lobo, 43, was taken to upstate New York to appear before a judge.
The son of the former president allegedly held strong ties with important drug-trafficking cartels such as the Cachiros and Ramón Matta, son of Ramón Matta Ballestero, who is serving a life sentence in a US prison.
"I cannot say that he is guilty; I cannot say that he is not," Lobo Sosa said. "Fabio is not a child; he is a man with a family and must answer for his actions."
Lobo said he hopes his son is able to prove his innocence, but "would not be there for him" if he is found guilty.
"I hope my son is innocent; I'm hoping that from the bottom of my heart, but if he is guilty, he will have to answer [for his crimes]."
Porfirio Lobo Sosa served as president of Honduras from 2010-2014, following the removal of Manuel Zelaya from office in 2009.