EspañolCongressmen belonging to Venezuela's ruling United Socialist Party (PSUV) have put forward differing proposals to halt the collapse of the bolívar — which has fallen in value by as much as 66 per cent within eight days — including a bid to make all Venezuelans dependent on a central government internet server, thus denying them access to unofficial exchange rates.
On Friday, May 22, National Assembly Member Juan Carlos Alemán reported that the Ministry of Science, Technology, and Innovation is working on a project to end Venezuela's reliance on "servers like Google or Firefox, which are outside of national control."
Alemán's suggestion forms part of an ongoing battle by the administration of President Nicolás Maduro to block access to the widely used website Dólar Today, which posts daily updates of the black-market exchange rate. Government officials have cited the need to "defeat" DólarToday in order to "twist the arm" of the unofficial dollar exchange rate.
As Maduro has forbidden the publication of the unregulated price of the bolívar, DólarToday is blocked in Venezuela, but locals can circumvent the ban via Twitter — something the proposed bill could end.
Maduro has blamed the decline of Venezuela's currency on an ongoing "economic war" with hostile business interests conspiring to bring down his government.
"The problem is that we are dependent on servers such as Google and Firefox, which are outside of national control," Alemán explained. "We have recently launched two satellites into space … with this kind of technology, we will be independent and able to control these kinds of situations."
Chavistas Disagree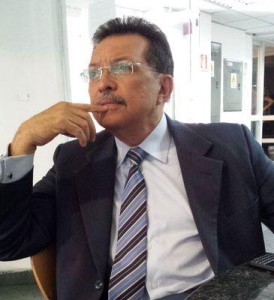 On Monday, May 25, Congressman Germán Ferrer proposed to unify the country's three-tiered currency system in order to "solve a series of distortions" in the market. His remarks underline serious disagreement within Maduro's own party about how to confront the growing economic crisis facing Venezuela.
The Simadi regulated exchange rate, which Maduro introduced in February, is currently trading at 198.5 Bs. per US dollar. However, its availability depends on the ability of local currency exchanges to meet demand.
"There should only be one exchange rate, and that may start solving some distortion, until equilibrium is reached. It would also contribute to boosting national manufacturing power," Ferrer argued.
"If this is not corrected it will be difficult to rein in outgoing smuggling," he added, in reference to the traffic of contraband along the Colombian-Venezuelan border.
"According to the former CEO of [state-run oil firm] PDVSA Rafael Ramírez," Ferrer noted, "the country loses over 100,000 barrels of gasoline every day" through smuggling, "which amounts to some US$4 billion, which is far from our economic ability to absorb."
Sources: El Universal, La Patilla.