EspañolOn Wednesday, May 6, the lower house of the Canadian Parliament approved a controversial anti-terrorism law proposed by the federal government. According to the opposition, the act — which would expand the powers of the intelligence services of the country — violates the individual rights of citizens. The government expects the Senate to pass the law before the summer recess.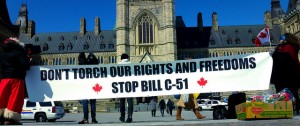 The Liberal and Conservative parties joined forces to pass the bill, also known as Proposition C-51, with 183 votes in support and 96 against.
Despite opposition attempts to introduce amendments and moderate the scope of the law, the House only agreed to four minor changes. The Opposition New Democratic Party (NPD) denounced the bill in its entirety on the grounds that provides excessive powers to the Canadian Security Intelligence Service (CSIS).
The bill expands the powers of the police to carry out preventive arrests; diminishes the requirements to prevent a citizen from boarding a plane if deemed suspicious; and increases the exchange of security information between different federal agencies.
The Royal Canadian Mounted Police (RCMP) would also have greater flexibility to ask judges for restrictive measures to limit a suspect's movements, and extend the duration of preventive arrests.
"The [act] will provide our police forces with the tools they need to protect Canadians against serious and evolving threats from terrorist organizations like ISIS," Public Safety Minister Steven Blaney said.
A key point of contention is the bill's provision that would allow federal intelligence agents to request judicial warrants to knowingly break the law or violate the Canadian Charter of Rights and Freedoms in order to thwart alleged threats to national security.
The bill faced significant opposition from various groups who argue that it goes too far and threatens Canadians' privacy rights. If signed into law, the Canadian Security Intelligence Service may take "reasonable and proportional" measures to actively disrupt alleged terrorist threats at their "pre-criminal" stage.
Sources: Maclean's, National Post.