EspañolDominican urban music artist Emanuel "El Alfa" Herrera began a 15-day community service sentence on Wednesday, after allegedly insulting the country's founding fathers, the Attorney General's Office reported.
Herrera is to help clean and maintain Santo Domingo's Plaza de la Bandera as punishment.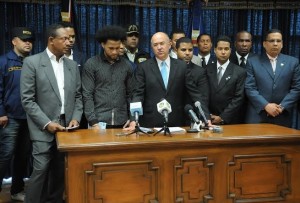 In February, the artist posted a video onto YouTube where, to a backdrop of laughter, he levelled profanities against Juan Pablo Duarte, Matías Ramón Mella, and Francisco del Rosario Sánchez, who played a key role in the Caribbean nation's War of Independence (1843-9).
The video sparked controversy after spreading through social media, and the musician was forced to apologize.
"I apologize to my public and the Dominican people, because they are the fatherland. It was never my intention to offend you, nor the heroes and martyrs of my country, it was all a misunderstanding," he said.
Herrera claimed that the video was made amid "speculations that I was staying in the United States to acquire [immigration] papers, when in reality I was working. I am happy to be in my land, and I made that video to tell people that it's not true what is being said."
"I'm going to take something positive from this moment, because I have young people looking up to me, and I have to promote values," he added.
Attorney General Francisco Dominguez Brito told a press conference that "we want to grow, educate, be better, correct error, and seek perfection."
"That's why rather than a punishment and making charges that don't achieve what we want, we've decided to give Alfa a very important opportunity to promote patriotic values and symbols," he added.
Dominican law typically imposes between six and 30 days in prison for activities deemed to disrespect the nation, according to John Henry Reynoso of the High Tech Crimes Unit of the Attorney General's Office.
https://www.youtube.com/watch?v=WIV1iTBsqm4
Sources: El Caribe, El Nacional.