EspañolOn Tuesday morning, a group of contract killers gunned down former Paraguayan congressman and regional Colorado Party (ANR-PC) head Magdaleno Silva at his home in the town of Ybu Yaú, roughly 400 kilometers north of the capital, Asunción.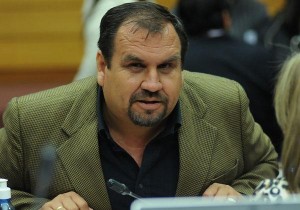 The attack left another three dead: Silva's son Fernando, and ranchers Isaac and Felix Peña, according to local daily ABC Color. Radio journalist Ángel Cabañas was also seriously wounded.
Radio station 780 AM reported that the attack occurred at 9:30 a.m. when "four to six hitmen" arrived in a white SUV at Silva's residence and opened fire with high-caliber weapons.
The congressman was taken by neighbors to Yby Yaú hospital, but doctors pronounced him dead on arrival.
Journalist Ángel Cabañas, who worked at a radio station owned by Silva, was taken to a hospital in the nearby city of Concepción department due to his grave injuries.
Angel Cabañas, único sobreviviente en atentado contra #MagdalenoSilva en estado crítico. Recibió 3 balazos en el cráneo, 6 impactos #780am

— Sara Moreno ?? (@SaraMorenoPy) May 5, 2015

"Ángel Cabañas, the only survivor of the attack against Magdaleno Silva in a critical situation. He was shot three times in the head, six impacts in total."
Last September, the former congressman survived a previous assault when two unknown gunmen fired approximately 40 rounds at the radio station where he was with his son, hitting Silva twice.
The legislator has been subject to multiple allegations since 2010 of being linked to drug traffickers in Concepción department, known as a key area of the production and transit of drugs, particularly marijuana and cocaine.
Paraguayan Interior Minister Francisco de Vargas told Radio 780 AM that the attack "has all the characteristics of a drug-trafficking vendetta."
Dissident politicians from the ANR, at odds with the ruling faction of the party led by President Horacio Cartes, were quick to lay the blame on the government.
"We have ran out of patience with the Interior Ministry. He [De Vargas] should resign," Senator Julio Velásquez told a press conference.
Sources: Paraguay.com, Radio 780 AM.