EspañolArgentina's Congress approved on Wednesday a bill that would award one-off economic compensation for the victims of the attack against the AMIA Jewish community center in 1994.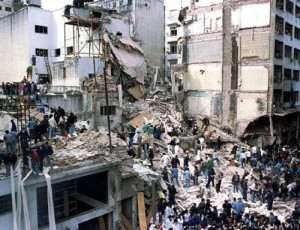 The law, passed with unanimous support, establishes compensation of AR$1.5 million (around US$120,000) for the families of the 85 people who were killed. For the hundreds whose injuries were "extremely grievous" or "grievous," the amount is reduced to 70 and 60 percent, respectively.
"Twenty-one years have passed, and while there is never full compensation for a loss of a loved one, because of the impunity in this case [we] want to give resounding support to reparations for the victims of the AMIA attack," opposition Representative Patricia Bullrich said.
"Because of our commitment to the defense of the human rights, and following the acknowledgement of the state's responsibility in the attack, we understand that these victims deserve the same treatment as those of the Israel Embassy and military rule," she added, referring to another 1992 bombing and Argentina's 1976-83 military dictatorship.
Juliana de Tulio, party whip for the ruling Front for Victory, explained that the victims and their families will receive the money later this year.
The compensation comes amid a confrontation between local Jewish leaders and the administration of President Cristina Kirchner over a memorandum of understanding signed by Iran and Argentina in 2013.
The government says that the agreement was designed to allow questioning of the Iranian officials allegedly involved in the bombing. However, leading Jewish groups have claimed the deal represents an Iranian attempt to avoid justice.
Foreign Affairs Minister Héctor Timerman resigned his membership of the AMIA on Tuesday, accusing the entity of "obstructionist actions" that prevent "the progress of the investigation into the criminal terrorist attack."
On April 19, Kirchner published a post on her blog linking Jewish leaders with a lobbying group of the hedge funds litigating against the country, Israeli Prime Minister Benjamin Netanyahu, and US pro-Israel lobbying group AIPAC.
The late prosecutor Alberto Nisman filed a complaint against President Kirchner accusing her of covering up for the Iranian officials allegedly involved in the attack. On January 18, he was found dead in his apartment with a gunshot wound to the head, only a day before he was to present his evidence before Congress.
On April 20, Prosecutor Javier de Luca dismissed the allegations against Kirchner, definitively burying the case that been twice rejected by Argentinean courts.
Source: BBC.