EspañolThe presidential campaign of Buenos Aires Mayor Mauricio Macri received a lift on Sunday when his conservative PRO party swept primary elections in the Argentinean capital, confirming its status as an opposition stronghold.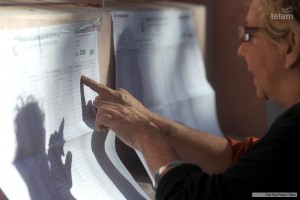 Official results of the primary show two candidates of his opposition party together gained 48 percent of the vote, with Horacio Rodríguez Larreta, who Marci backed, ultimately beating out party rival Senator Gabriela Michetti. Larreta will now lead the PRO party ticket for the mayorship of Buenos Aires in general elections next July.
Congressman and former Economy Minister Martín Lousteau, who served during President Cristina Kirchner's first term, placed second in the tally with 17.8 percent. His party, the social-democratic coalition ECO, brought in a combined 22.3 percent of the vote.
Kirchner's Front for Victory won just 18.7 percent of the overall votes, with Mariano Recalde, CEO of the state-run airline Aerolíneas Argentinas, pulling in 12.3 of the electorate in Buenes Aires to place third.
Hoy ganó el PRO, ganó el cambio. Ganó el diálogo, la convicción de que los que piensan distinto no son enemigos

— Horacio Rodríguez Larreta ✋???? (@horaciorlarreta) April 27, 2015

"Today, the PRO party won. Dialogue and the notion that those who think differently are not enemies also won."
"I want to thank Mauricio (Macri), thanks for showing us there is another way of doing politics in Argentina, and that with honesty and dedication we can change peoples' lives," Larreta told supporters in a televised speech.
More than 2.5 million people participated in the mandatory open primary on Sunday (PASO). According to election rules, all parties must take part in the PASO, even if there is no internal rival, and achieve at least 1.5 percent of the vote to advance to the next stage.
Buenos Aires residents will elect a new mayor in July, ending Mauricio Macri's eight-year run as head of the city, before selecting the next president of the country on October 25.
"It's quite clear that Mauricio Macri is the real winner this Sunday," said Mariel Fornoni, a pollster at the Management & Fit consulting firm.
Source: La Nación.