EspañolOn Wednesday, April 22, Panama's Electoral Court formally stripped former President Ricardo Martinelli of his immunity from prosecution as a member of the Central American Parliament (Parlacen) — paving the way for him to face trial for corruption during his 2009-2014 administration.
The Supreme Court will now proceed with the case, as the only body mandated by the Panamanian Constitution to hear criminal proceedings involving congressmen.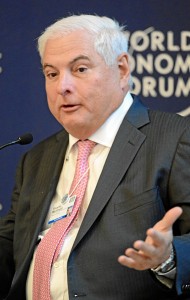 Prosecutor Oydén Ortega has two months to investigate the former president on charges of inflating multi-million dollar contracts with food providers that supplied the National Help Program (PAN), a government-run welfare program.
However, under the so-called Ley Blindaje (Armor Law), Ortega can request an additional two-month extension from the Court if required.
Giacomo Tamburrelli, a director of PAN during the Martinelli administration, has given testimony that the bidding process for PAN contracts was a sham, as they were invariably awarded to dehydrated food provider Lerkshore International Ltd — allegedly in return for substantial kickbacks.
After investigations began earlier this year, Martinelli fled the country for Europe, and is now in based in Miami.
His lawyer, Sidney Sittón, said that his client was not willing to return to Panama because he is in a phase of "reflection" while working on his memoirs.
Instead, Sittón said that Martinelli's legal team is ready to face any criminal investigation and reveal the "clear political motivation of the accusations."
Authorities have charged at least 32 people with involvement in the allegedly fraudulent managing of the welfare program, including Martinelli's private secretary; the former president's brother, Mario Martinelli; and former Education Minister Lucy Molinar.
Source: La Prensa