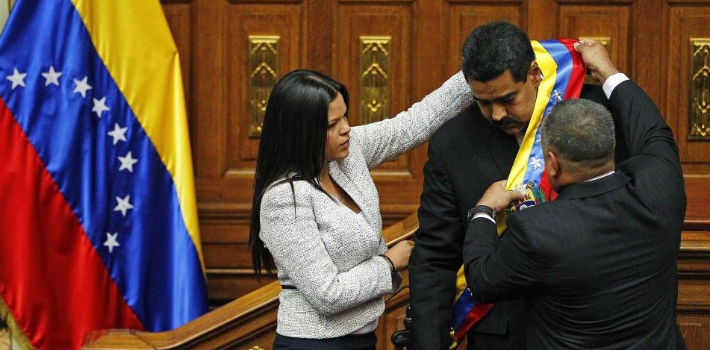 EspañolPresident Nicolás Maduro "stole the 2013 presidential elections" with votes fabricated in complicity with Venezuela's Electoral National Center (CNE), according to a new book by journalist Emili J. Blasco, US correspondent for Spanish daily ABC.
Blasco claims that Maduro emerged victor in 2013 only after an abnormal spike in votes one hour after the official closure of voting polls. In his book, Boomerang Chávez: The Frauds that Led to the Collapse of Venezuela, Blasco argues that the real winner was actually opposition challenger Henrique Capriles Radonski.
The source of these allegations is Leamsy Salazar, a former security official to late Venezuelan President Hugo Chávez and current National Assembly Head Diosdado Cabello, who defected to the United States earlier this year, and is believed to be in the DEA's witness protection program in a drug-trafficking case implicating his former paymasters.
Emili J. Blasco reports how Salazar witnessed Cabello and former Interior Minister Jorge Rodríguez (the alleged "great architect" of the fraud) set up a secret room in a Caracas district city hall, with 24 computers displaying real-time results of the elections throughout the country.
Throughout election day, April 14, 2013 Capriles Radonski was ahead of Maduro. The CNE allegedly then ordered the extension of voting for two more hours in order to manipulate the results. "A significant element of the fraud was orchestrated from Cuba," Blasco alleges.
The reporter also details how senior Chavista officials working for Cabello and Rodríguez confirmed the "electoral fraud" to US authorities, admitting having fabricated at least 350,000 votes to help Maduro win the elections.
Capriles Radonski, for his part, also claimed to have won the elections, but declined to contest the official results to avoid a "civil war" in Venezuela.
Two years after election day, the sitting governor of Miranda State took to Twitter last week to describe the alleged fraud as a "theft" from all Venezuelans.
Sources: ABC, Yvnoticias