EspañolThe Inter-American Commission on Human Rights (IACHR) has called on the Venezuelan government to urgently adopt "the measures necessary to preserve the personal integrity of Leopoldo López and Daniel Ceballos."
In a resolution issued on April 20, responding to a request made on August 23, 2014, the regional human-rights body also requests that Venezuela "ensure that their conditions of detention are adjusted to meet international standards."
The commission's Precautionary Measure 335-114 indicates that "despite expressions of concern" by multiple UN human rights bodies and the IACHR, to date both political prisoners "continue to be deprived of freedom" in the same conditions as before. Their treatment includes confinement in punishment cells, isolation, restrictions on family visits, and unexplained disciplinary measures, according to those who requested the precautionary measure last year.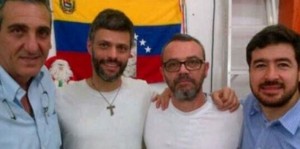 López and Ceballos are in a "grave and urgent" situation requiring protective measures, according to the IACHR, a body of the Organization of American States (OAS). Venezuela withdrew from the Inter-American Court of Human Rights in 2013 alleging interference in its sovereignty, although the Court can continue to issue resolutions concerning the country.
The Venezuelan government had provided information denying mistreatment of López and Ceballos, as well as San Diego municipal officials Salvatore Lucchese and Vincenzo Scarano, who are also both the subject of the precautionary measure, despite having since been freed.
Nevertheless, the claimants report that Scarano is suffering from a lumbar disorder as a result of beatings received at the Ramo Verde military jail, where the four opposition figures (joined by Caracas Metropolitan Mayor Antonio Ledezma on February 19) have been imprisoned.
The IACHR measures indicate that Venezuela has failed to respond to the body since February, after relations of the prisoners presented new information about their mistreatment.
López has been jailed since February 19, 2014, on charges of instigation to commit arson and violence, among other crimes. His imprisonment has been condemned both by national courts, the UN Committee Against Torture, and the Working Group on Arbitrary Detention.
Ceballos, the mayor of San Cristóbal, Táchira State, was condemned by Venezuela's Supreme Tribunal of Justice for alleged disrespect of orders. After completing his sentence of one year, he now stands accused of the separate crime of rebellion, causing his jail term to be extended while the trial is ongoing.
Scarano and Lucchese were also stripped of their office for refusing to obey government instructions to dismantle protest barricades in February 2014. However, the two have since been released after serving their sentences.