EspañolMexico's Congress approved on Thursday a bill to facilitate access to public information concerning unions, political parties, lawmakers, and any other person or entity managing public funds.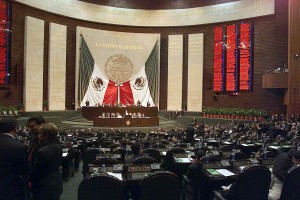 The 385 votes in favor of the bill represent wide cross-party support, including the governing Institutional Revolutionary Party (PRI), the National Action Party (PAN), Democratic Revolution Party (PRD, Environmentalist Green Party (PVEM), and New Alliance Party (PANAL). Only 24 representatives voted against the bill, with six abstaining.
"The access to public information would improve other rights and obligations, such as accountability, and combat corruption," Abel Salgado, head of the governance commission, told the chamber.
"Citizens have the right to know about the allocation of government spending, as well as the behavior of elected and non-elected officials," he added.
Despite its overwhelming support, some opposition lawmakers cited serious shortcomings in the text.
Congressman Francisco Alfonso Durazo, from the opposition National Regeneration Movement (MORENA), claimed that the law would promote active classification of certain information, such as that relating to national security matters. He also argued that by setting "partisan quotas" it could politicize the congressional transparency commission.
Javier Corral, an opposition PAN Senator, also pointed out that the law failed to apply to one group: Congress itself.
"This law doesn't protect the integrity of the legislative branch itself. The strictness that the government is applying to the other powers is absent when it comes to Congress," he said. While the law contains provisions for Congressman, these were not given a deadline for coming into force.
The need for greater transparency in Mexico has been a hot topic in recent months, as President Enrique Peña Nieto and other senior officials face allegations of receiving cut-price palatial residences from a construction firm in return for lucrative state contracts.