EspañolMembers of the FARC guerrilla attacked Colombian soldiers on Wednesday in the southwestern department of Cauca, killing 11 and wounding 19, according to military officials.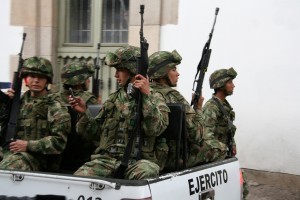 After the attack, occurring only 330 kilometers from the Colombian capital, President Juan Manuel Santos announced the military would resume the air strikes against the guerrilla that were suspended in early March.
A press release from the Army's Third Division notes soldiers "were attacked with explosive devices, grenades, and gunfire, resulting in the death of a non-commissioned officer and nine soldiers." Hours later, the Colombian government confirmed an 11th victim died from his wounds.
Lamento muerte de soldados en Cauca. Esta es precisamente la guerra que queremos terminar.

— Juan Manuel Santos (@JuanManSantos) April 15, 2015

"I regret the death of soldiers in Cauca. This is precisely the war that we want to end."
Ombudsman Jorge Armando Otálora demanded the FARC explain what appears to be the breach of a unilateral truce it declared earlier this year.
"The ambush constitutes an open contradiction of what FARC negotiators have said in Havana," Otálora said. "This is a blow to the confidence that Colombians should have in the peace process."
Speaking from the Cuban capital, the guerrilla commander known as Pastor Alape indicated that the incident was not a premeditated ambush by the guerrilla.
"We express our concern for the events that occurred in Cauca. Clearly, this is a product of the inconsistency of the government in conducting military operations against a guerrilla that has declared a truce," Alape told the press.
President Santos said he will not allow these "nefarious deeds" to force his hand regarding a bilateral truce, and announced a comprehensive investigation to identify those responsible for the ambush.
"I have ordered the Armed Forces to lift the suspension of air strikes on FARC camps until further notice," he said.
Estos graves hechos demuestran necesidad de acelerar negociaciones que pongan fin al conflicto. Esta es la guerra que tenemos que terminar.

— Juan Manuel Santos (@JuanManSantos) April 15, 2015

"These grave events reveal the necessity to speed up negotiations and put an end to the conflict. We must end this war."
The Colombian government and FARC have been formally negotiating since November 2012 in Havana to put an end to the 50-year conflict, which has left over 200,000 dead and displaced millions from their homes.
Source: El Espectador.