EspañolHundreds of thousands of Brazilians took to the streets of major cities of the country again on Sunday, April 12, to protest against corruption by President Dilma Rousseff's administration — less than one month after the largest anti-government demonstrations in decades swept the country.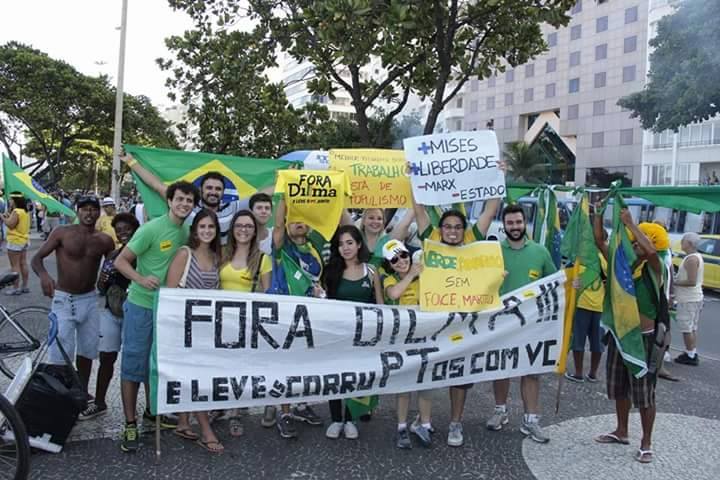 Police estimated that roughly 700,000 people marched in 195 towns and cities, while organizers put the turnout at 1.5 million — 500,000 short of protests in March, when organizers reported 2 million attendees across the country.
Many protesters demanded Rousseff's resignation or impeachment by Congress, as polls put presidential approval ratings at a record low for either of her two terms in office.
For over a year, Rousseff has been facing the backlash from a huge corruption scandal at state-run oil company Petrobras, dragging in dozens of lawmakers and officials from the governing Workers' Party.
While the movements organizing the protests anticipated a similar turnout to last month's protests, in some cities the number of demonstrators was dramatically lower.
In the capital, Brasilia, the number of protesters fell from 40,000 to only 25,000 on Sunday's protest. In Belo Horizonte, capital of Minas Gerais state, only a quarter of the 20,000 demonstrators who showed up for last month's protests took to the streets over the weekend.
In San Paulo, however, a turnout of 275,000 according to the police — or 800,000, according to the organizers — exceeded expectations. In March, around 200,000 streamed into the streets of the financial capital of the country.
A survey released on Saturday by local polling firm Datafolha indicated that 63 percent of Brazilians support the impeachment of the president, while some 75 percent said they were in favor of the protests. Fifty-seven percent of Brazilians reportedly believed that Rousseff was aware of the multibillion-dollar kickback scheme at Petrobras.
Only 13 percent of respondents gave Rousseff's administration a positive rating, while 60 percent said its performance was bad or terrible.
Sources: Huffington Post, Fox News.