Brazilian police arrested three former congressmen on Friday, March 10, as investigators broaden their ongoing corruption probe beyond state-run oil firm Petrobras to include the health ministry and state-owned bank Caixa Econômica Federal.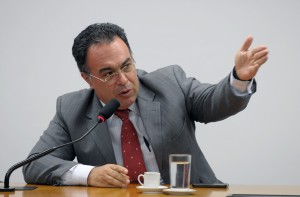 A federal judge in the southern city of Curitiba issued arrest warrants for André Vargas, a former congressman with the ruling Workers' Party, as well as Luiz Argolo and Pedro Corrêa, former legislators for the opposition Party of Solidarity.
Though their terms have expired, the trio become the first politicians arrested in the year-long investigation over a bribery scheme involving Petrobras, politicians, and executives from the nation's top construction companies.
During a press conference, prosecutors accused Vargas and his brother of having accepted bribes in exchange for helping a public relations firm and a biotech lab secure contracts with sate-owned bank Caixa Econômica and the Health Ministry.
Investigators say many of the oil company's suppliers inflated contracts, dividing the extra money among Petrobras executives and dozens of politicians.
With the Health Ministry and Caixa Econômica, the cost of advertising contracts could have been inflated by as much as 10 percent, prosecutors said.
"We knew the case wasn't going to stay in Petrobras," Igor Romario de Paula, a top official at the Federal Police said. "It seems as if we're facing a business model that is repeated in contracts around Brazil's public sector."
Since the launch of the Petrobras investigation, known as "Operation Car Wash," President Dilma Rousseff's approval rating has dropped among Brazilians. In March, protesters held one of the largest demonstrations seen in the country in decades.
"The investigation is only beginning," said prosecutor Carlos Fernando dos Santos Lima, adding that other Petrobras departments, like communications, would be investigated.
Sources: Wall Street Journal, Reuters.