EspañolAfter 14 hours of debate, Argentina's Chamber of Deputies approved early on Thursday morning a bill that would nationalize the country's railway network. Cross-party support secured an overwhelming majority for the move, with 223 congressmen voting in favor, and only five voting against and six abstentions.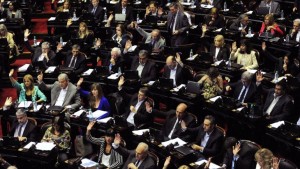 The proposal, sent to the lower house by the government of President Cristina Kirchner, appoints state-run Ferrocarriles Argentinos to control all national railways. The state "will decide, invest and manage all the railroad network," Interior and Transportation Minister Florencio Randazzo told the chamber.
"The law will give us the possibility to negotiate concessions, on the understanding that the state's prerogative over the railways is nonnegotiable," said the minister, who as a candidate in this year's presidential elections has made transportation policy a cornerstone of his campaign.
The bill received wide support from opposition parties, which had previously indicated that they would back the measure. Pending Senate approval, the bill is likely to be signed into law within the next few weeks.
Federico Sturzenegger, a congressman with the conservative Propuesta Republicana (PRO) party, explained that his party voted for the bill because it "will reactivate public and private investment".
PRO meanwhile proposed a modification that would allow "any railways operator to transport shipments originating from, and a with destination of any point in the network despite who is the owner of the facilities."
Center-left congressmen nevertheless voted against the bill alleging that it would only introduce shallow reforms.
Claudio Lozano, a candidate in the Buenos Aires mayoral race, said that the proposal "allows the reiteration of the old story in which an idiotic state absorbs the liabilities resulting from dismantlement carried out by the private sector and then rebuilds it, only to award a new private concession."
Margarita Stolbizer in turn branded the bill "pure merchandizing" and alleged that it represented a "electoral necessity of the government" and not substantive reform.
Earlier this year, the federal government opened a new train service traveling between Buenos Aires and the western province of Córdoba, 600 kilometers away from the capital. The trip lasts 19 and a half hours — shaving a full 30 minutes off the time the journey took in 1890.