EspañolA South Carolina police officer was arrested and charged with murder on Tuesday, April 7, after a video shot by a bystander came to light which showed him shooting Walter Scott, a 50-year-old African-American man, eight times in the back.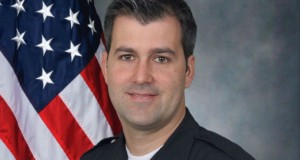 The North Charleston police officer, who pulled over Scott for a reported traffic violation, initially said that he shot him because he feared for his life after Scott allegedly "grabbed" his Taser. The incident occurred on the morning of Saturday, April 4.
The footage, however, shows officer Michael Slager, 33, shooting Scott while he was running away. After Scott falls to the ground, Slager walks to him and shouts: "Put your hands behind your back now, put your hand behind your back." Scott was already dead.
According to an internal police report, Slager said over the radio that he deployed his Taser and "seconds later" he said: "Shots fired. Subject is down. He grabbed my Taser."
"When you're wrong, you're wrong," North Charleston Mayor Keith Summey told press on Tuesday. "If you make a bad decision, I don't care if you're behind the shield or just a citizen on the street, you have to live by that decision."
The North Charleston police department has fired Slager, who faces 30 years to life in prison or death penalty if convicted, police officials confirmed on Wednesday.
Chris Stewart, lawyer for the Scott family, said that Scott tried to flee because he had a history of failing to pay child support for his four children and he feared going to jail. A local newspaper reported that he had been arrested for non-payment of child support at least 10 times.
Scott's death follows multiple recent incidents of police officers shooting and killing unarmed black citizens, including the cases of Michael Brown in Ferguson, Missouri, and Eric Garner in New York.
https://www.youtube.com/watch?v=VQgjAY-Mm8s
Sources: Guardian, National Post.