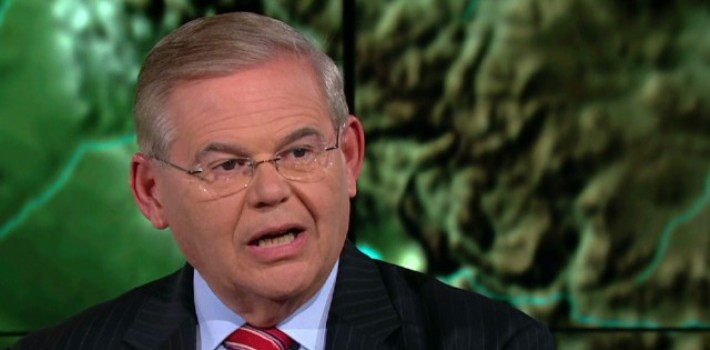 EspañolThe Department of Justice of the United States announced on Wednesday the indictment of Senator Bob Menéndez (D-NJ), for alleged corruption and for favoring Melgen Salomon, a wealthy ophthalmologist from Florida, and one of the main contributors to his campaigns for office.
After a two-year investigation, Senator Menéndez, chairman of the Senate Committee on Foreign Affairs, was accused in a 68-page document of conspiracy, bribery, honest services fraud, and travel violations.
Some of the specific allegations against the Senator include: supporting the issuance of visas for the ophthalmologist's lovers, who came from the Dominican Republic, Brazil, and Ukraine; intervening on Melgen's behalf in a Medicare billing dispute; and unduly influencing Dominican Republic authorities to help Melgen start a business of monitoring ports in his home country.
Moreover, Menéndez allegedly accepted improper gifts from the ophthalmologist, such as flights on his private jet, lodging in a luxury hotel in Paris, and nearly US$1 million in donations to his campaigns.
When the controversy around Menéndez and Melgen first emerged, the senator discreetly paid Melgen $58,000 in compensation for the use of his private jet.
Leslie Caldwell, assistant attorney general of the Justice Department's Criminal Division, said in a statement that "government corruption – at any level of elected office – corrodes the public trust and weakens our democratic system."
Menéndez, the first Cuban American senator in US history, is also a strong critic of the Venezuelan government, and one of five US officials barred from traveling to the South American nation by President Nicolás Maduro for alleged "human-rights violations." This is his second term in the Upper House of the US Congress.
On Wednesday, April 1, Menéndez said claimed that he was being silenced due to "a political motive," and said that he will come out from the accusations unscathed.
Menéndez added that he was "angry because prosecutors do not understand the difference between friendship and corruption." In a short speech he delivered first in English, then in Spanish, Menéndez said he is "outraged that prosecutors at the Justice Department were tricked into starting this investigation three years ago."
Menéndez, who served as Congressman for 13 years before becoming a Senator, did not take any questions from the reporters.
The prosecution now has the difficult task of proving specific connections between Melgen's financial aid to Menéndez, and the influence the latter may have exercised on his behalf in return.
Menéndez is the 12th senator to be prosecuted (with a total of five convicted) in the course of his duties in US history. The previous case was that of Ted Stevens (R-Alaska), convicted in 2008, and whose trial was canceled a year later, after it was discovered that the prosecution had hidden key evidence. Nevertheless, Stevens lost his bid for reelection in polls that were held during the period.
Sources: El Nuevo Herald, Univisión.