EspañolOn Tuesday, the Constitutional Tribunal and Court of Appeals of Valparaíso in Chile ruled that Nicolás tiene dos papás (Nicolás Has Two Dads), the first Chilean children's book about sexual diversity and same-sex parenting, does not violate children's rights and may legally be made available in preschools.
The decision is a victory for the National Council of Kindergartens (JUNJI, for its acronym in Spanish) which represented the book after after evangelical churches and NGO Community and Justice attempted to ban its voluntary distribution.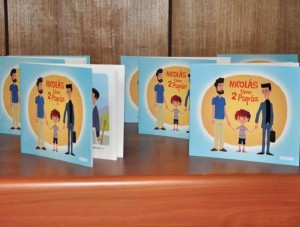 Judges Inés María Letelier Ferrada and Carolina Figueroa Chandía of the Court of Appeals found that the story didn't infringe any rights, and that the state cannot establish a mandatory doctrine on such issues, be it political, moral, or religious.
"The JUNJI has not committed arbitrary or unlawful acts or omissions that cause deprivation, disturbances, or threats to the legitimate exercise of rights," the judge indicated.
The sentence declares that the book's voluntary distribution does not constitute a mandatory imposition of a moral stance that would usurp parents' authority. It also deems the children's book respectful of freedom of conscience.
Constitutional Tribunal ministers meanwhile declared Community and Justice's claims that the book violated constitutional rights were inadmissible, branding them "inconsistent" and without any rationale.
The Supreme Court is yet to rule on another proceeding concerning the voluntary distribution of Nicolás Has Two Dads in kindergartens.
The rulings were celebrated by the Movement for Homosexual Integration and Liberation (Movilh), who described it it as a "logical verdict."
The book was produced by Movilh, financed by the European Union and the Netherlands, and sponsored by the University of Chiled, the Dibam, and the Toddler Teachers College of Chile.
Sources: Movilh, BiobioChile.