EspañolA group of parents of the 43 disappeared Ayotzinapa students have turned to the leader of the Los Rojos cartel for answers the Mexican government can't or won't provide. To do so, they have resorted to the same tactic commonly used by drug traffickers to deliver a public message: a narcomanta, a banner displayed publicly to or from a cartel.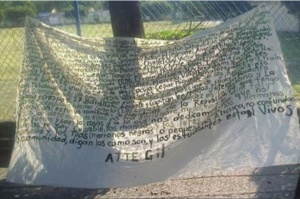 The parents hung the narcomanta in the city of Iguala, Guerrero, where their children were last seen. They addressed the message to Santiago Mazari Hernández, leader of Los Rojos, asking for any information that could help them find their missing sons. The parents also said they would be open to meeting with Mazari.
"We ask that you help us find our children, because this evil government has not been honest with us," reads the banner. "On the contrary, they have hurt us with their lies. We are poor people, and they have trampled on our dignity."
In February, the leader of Los Rojos reportedly hung a narcomanta distancing his group from the disappearance of the students and pointed the finger at the rival cartel Guerreros Unidos.
Mazari said the Mexican federal government seeks to implicate him in the crime and kill him to cover-up the truth behind the missing students. He also indicated he would be willing to answer questions from the parents of the normalistas.
The official investigation from the Attorney General's Office concluded that the Guerreros Unidos were responsible for kidnapping and murdering the students and incinerating their bodies. Only the remains of one of the 43 missing have been identified so far.
Earlier this year, Mexican Attorney General Jesús Murillo Karam resigned following heavy criticism regarding the investigation. Citing a lack of evidence, parents have questioned the government's account of events and continue to demand an independent investigation.
Sources: Periódico Central, CNN México.