The Peruvian Congress has voted to censure Prime Minister Ana Jara over alleged spying on opposition activists, businesses, and journalists.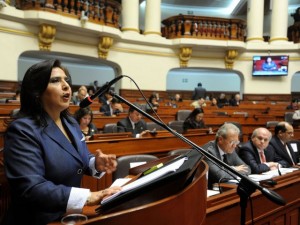 Lawmakers voted late Monday 72-42 in favor of Jara's removal, with two abstentions. Jara must now submit her letter of resignation, and President Ollanta Humala has 72 hours to accept it and appoint a new prime minister. Humala will have the option of reappointing the members of his cabinet if he so chooses.
Congress had suspected Jala of being responsible for more than 100,000 incidents of domestic spying in the National Intelligence Directorate (DINI). Those targeted included politicians, business owners, members of the military, police officers, and journalists.
"This is a problem because it creates political instability and paralysis," said President Humala before the vote.
During the deliberation in Congress, opposition party spokesmen Juan Díaz Dios noted that the DINI not only spied on the communications of politicians, but also had them followed. He added that rather than revealing the names of those at the DINI responsible for the spying, Jara minimized the situation by claiming the inquiries were based on public information.
Congressmen Daniel More of Possible Peru and Daniel Abugattás of Peru Wins defended Jara, suggesting the DINI does not report to the prime minister.
After the vote, the prime minister said via Twitter that Congress's vote of no confidence was "an honor."
Doy gracias al Señor JESUS por haberme dado la oportunidad de servir a mi país desde el Ejecutivo!
Es una honra q "este Congreso me CENSURE"

— Ana Jara Velásquez ?? (@anajarav) March 31, 2015

"I thank the Lord Jesus for giving me the opportunity to serve my country in the Executive. It's an honor to be censured by this Congress."
Prior to the vote, President Humala expressed his unwavering support for his prime minister, and said he considered the decision to censure Jara was unjust.
On March 19, the magazine Correo Semanal released a list of the individuals whom DINI agents had investigated. After the leak, Congress subpoenaed Jara to testify. The prime minster told the legislative body that she had asked an investigation, but that the information requested was from two administrations ago, and not the current one.
The Peruvian Congress has not censured a Cabinet chief since 1963. The last minister to be censured was Fernando Rospigliosi in 2004, then Minister of the Interior, during the Alejandro Toledo administration.
Source: El Comercio, Reuters.