EspañolCosta Rica has sacked its ambassador to Caracas for favorable comments regarding the political and economic situation in Venezuela. He made the remarks without prior consultation with Costa Rican Chancellor Manuel González, who subsequently called a press conference to announce the dismissal on Wednesday, March 25.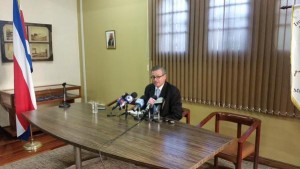 Ambassador Federico Picado said in an interview, published on Sunday by local daily La Nación, that he believes Venezuela enjoys wide freedom of press and blamed "big business" for the shortage of basic goods in the country.
Picado also supported the special powers to rule by decree that the Venezuelan Congress granted President Nicolás Maduro after the US government's declaration of Venezuela as a "national security threat."
Chancellor González said that the ambassador was dismissed "for not consulting with the Chancellery," which breaks a rule that "explicitly bars diplomats from expressing their personal opinions on issues related to their positions."
He added that the opinions of the ambassador "create confusion" over the Costa Rican position on the situation in Venezuela.
Picado's dismissal will be effective on April 1, after the Council of Government confirms the decision.
According to the Chancellery, Picado was chosen on account of "his the merits shown as a member of the Committee on International Affairs and Foreign Policy of the [ruling] Citizen Action Party (PAC), besides being a prominent politician and citizen involved in local issues."
Picado has became the third ambassador fired since President Luis Guillermo Solís took office 10 months ago. Earlier this year, he sacked the Costa Rican ambassadors to Bolivia and South Korea.
Source: La Nación.