EspañolOn Wednesday, March 17, the Commonwealth Freedom of Movement Organization (CFMO) called on the governments of New Zealand, Australia, Canada, and the United Kingdom to reduce restrictions on visas and work permits between the four nations.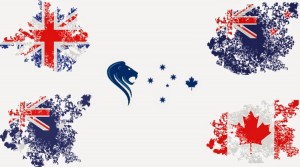 A petition posted online has already gathered over 35,000 signatures, and the CFMO is to present their proposal this week to politicians in New Zealand and Australia, and then the Canadian and British governments.
"Because of the unique relationship and socio-economic bonds that the United Kingdom, Canada, Australia, and New Zealand share, we believe that each country can benefit from a free movement agreement with each other, similar to the policies of the European Union and the Trans-Tasman Travel Arrangement between Australia and New Zealand," says the petition.
Despite 49 other countries belonging to the commonwealth of nations, the organization says the bonds between the four targeted nations are unique, since they share a common language and cultural traditions, as well as the same legal system and head of state. "It is therefore unreasonable for each to not share the same economic, political and cultural benefits that a free movement policy would bring," claims the CFMO.
"We are virtually the same people," CFMO Founder and Executive Director James Skinner told CBC News. "The only thing that divides us is the cover of our passports."
Skinner, who is British, explained to CBC News how difficult it was for him to obtain permanent residency in Melbourne, Australia, and how he was eventually forced to leave. He currently lives in Vancouver, Canada, but fears the same experience could happen again.
The CFMO says the United Kingdom is unlikely to experience a flood of migrants even with open borders, arguing that the number of migrants from Canada, New Zealand, Australia, and South Africa has declined since 2004.
"In 2011, only 8,000 nationals from New Zealand resided in the United Kingdom, with 26,000 from Australia and 9,000 from Canada," says the website. The organization says those numbers must be contrasted to the "729,000 nationals from India, 465,000 from Pakistan, 180,000 from Nigeria, 643,000 from Poland, 297,000 from Germany, and 145,000 from Jamaica."
Source: CBC News.