EspañolA Venezuelan court of appeals rejected Sunday a bid for the release of jailed opposition leader Leopoldo López. The March 15 ruling confirms a previous decision to keep him incarcerated, despite concerns expressed by human-rights groups and international bodies such as the UN Working Group on Arbitrary Detention.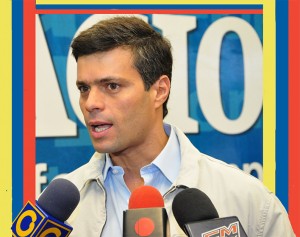 However, Caracas's Court of Appeals ruled that Venezuela is under no obligation to follow decisions made by international bodies according to the Constitution. "Still less," the judgement reads, when the agency, part of the UN Commission on Human Rights, "has only issued a suggestion."
López has spent over a year in the Ramo Verde military prison after his arrest for allegedly committing conspiracy, arson, and inciting violence during anti-government protests in February 2014.
In October 2014, the UN group stated that López's imprisonment "constitutes an arbitrary destitution" and recommended that the Venezuelan government grant the Popular Will (VP) leader an "immediate release" and award him "comprehensive compensation."
Lilian Tintori, López's wife, has alleged that her husband is suffering mistreatment and torture. According to Tintori, López is being held in a "punishment cell" and "hasn't seen sunlight in the last five months."
Nevertheless, she claims her husband "continues to be strong and firm," and has repeated López's rejection of any deal for his release which involves him leaving Venezuela for exile abroad, something President Nicolás Maduro mooted earlier this year.
Earlier this month, a court convicted students Raúl Emilio Baduel (son of a former Defense minister also in prison for criticizing the government) and Alexander Tirado (a VP member) to eight years in prison for association and incitement to commit crime, and public intimidation, for their alleged role in 2014's demonstrations.
Over 40 people arrested during the anti-government protesters that swept the South American country from February 2014 remain in jail. Forty three people were killed, and hundreds were wounded, in clashes between state security forces and demonstrators.
Source: Infobae.