EspañolUnidentified assailants shot and killed two Guatemalan journalists and wounded a third on Tuesday, March 10. They were covering a special event arranged by the local government in the department of Suchitepéquez in southern Guatemala to mark International Women's Day.
The attackers killed Danilo López, the local correspondent for Prensa Libre, and Federico Salazar, of Radio Nuevo Mundo. Marvin Israel Túnchez, a reporter for a local cable channel, had to be taken to the Mazatenango hospital in serious condition.
López and Salazar were the vice president and secretary, respectively, of the recently created Suchitepéquez Press Association.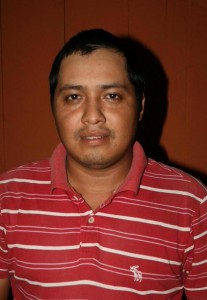 "The park was crowded, to such a degree that the authorities had closed the surrounding streets. We were a group of journalists on one of the benches, covering the activity for our media. At some point, two people riding on a motorcycle ignored the sign banning transit. One of them got out and went straight to Danilo and emptied his gun hopper. Then he approached to give the coup de grâce," said a witness to Spanish daily El País.
Prensa Libre editor Miguel Ángel Méndez said López had worked at the paper for more than a decade and most of his stories focused on the lack of transparency in the management of taxpayer funds.
Méndez added that two mayors threatened López in the last months because his stories addressed "the opacity in several local governments."
"Two mayors from Mazatenango municipality had threatened him for his stories," Méndez said. "Danilo was a very ethical reporter, very transparent, and he was very good at accounting for public funds and how this impacted communities."
Marvin Robledo, director of Radio Nuevo Mundo, said that Salazar was not working on any special assignment, so they await the findings of the police probe: "We're going to await the investigations; we don't know the motive. We have requested that the authorities investigate, find the responsible, and enforce the law."
Sources: El Nacional, El País.